Homeowners in Dallas, TX, can reclaim their free time and practice their short game at their leisure with an artificial backyard putting green from Premier Greens. Do you love golf but simply do not have the time or resources to get out on the course as often as you like? With a low maintenance artificial grass putting green in your backyard, you can enjoy all the benefits of a high-quality golf green without ever leaving home! Imagine being able to practice and hone your skills any time that suits you – while also enjoying some fresh air and relaxation.
Now, with artificial putting green from Premier Greens, it is possible! Not only is it convenient, but our synthetic golf greens require very little maintenance, allowing you more time for leisure activities. Let's explore these benefits and more!
What is an Artificial Grass Putting Green?
At Premier Greens, our premium artificial grass putting greens are made from specialized synthetic turf that is designed to look, feel, and play like traditional golf grass. In doing so, it provides a realistic game experience for avid golfers without requiring conventional grass maintenance. This makes it a low-maintenance and attractive addition to any yard or property in Dallas, Texas.
Our celebrity-endorsed artificial golf grass is highly durable and requires little maintenance, especially when compared to traditional greens. With it, there is no mowing, watering, fertilizing, or edging needed. This allows you to spend more time perfecting your short game and less time taking care of the green.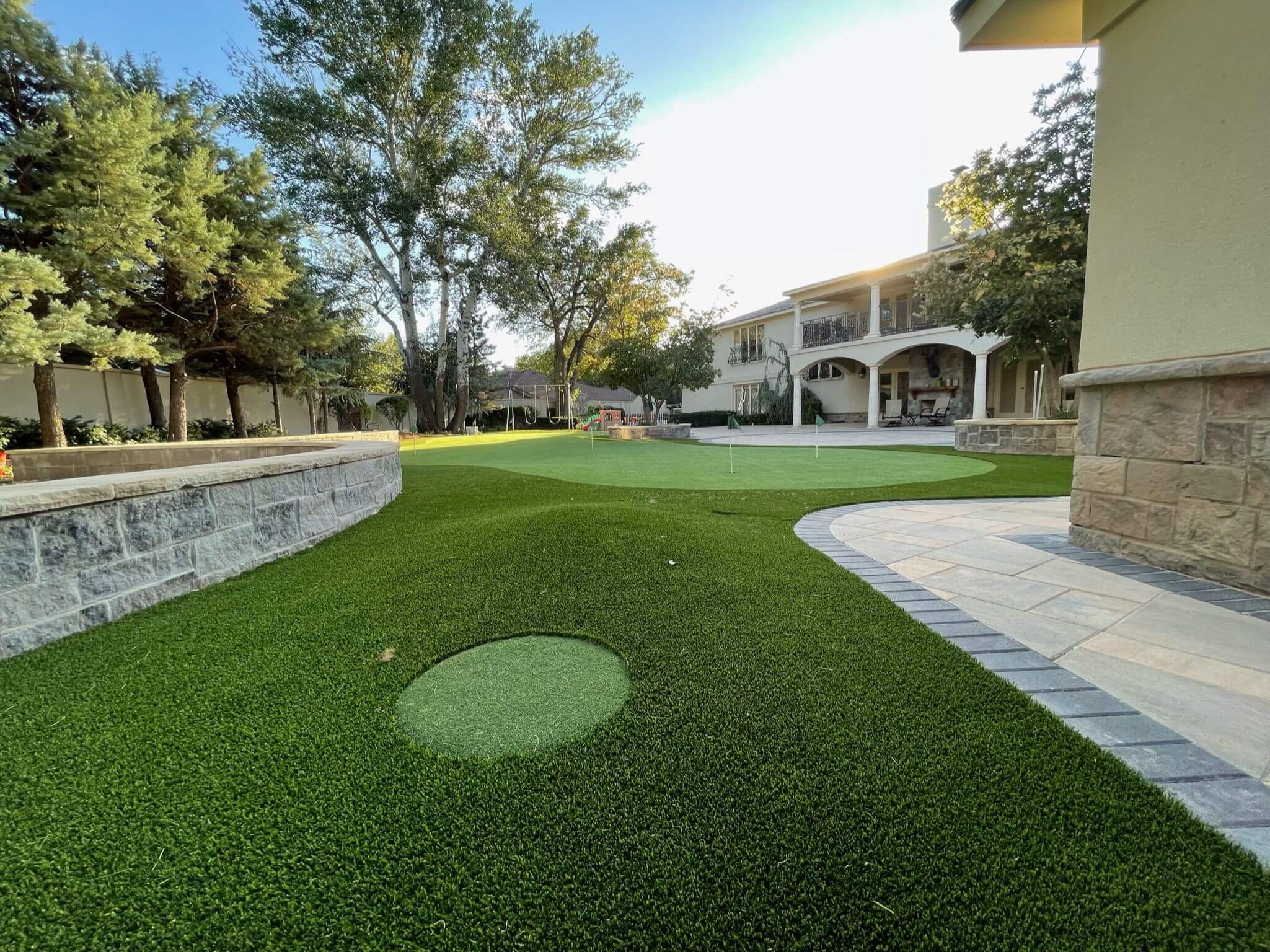 Benefits of Having an Artificial Grass Putting Green
Having a professional-grade backyard artificial putting green from Premier Greens is beneficial for avid golfers and recreational players alike. Artificial putting greens offer a much more consistent playing surface than conventional grass, meaning that the speed and accuracy of putts can be better predicted and improved upon with practice. With this level of control, golfers can hone their skills in the comfort and convenience of their own Dallas residences.
Our synthetic putting greens are also extremely low maintenance compared to traditional golf grass. They never need to be watered or mowed, meaning homeowners do not have to spend significant time or money on upkeep.
The materials used in our backyard putting greens are also designed to withstand wear and tear over time without needing to be replaced often. This has the added benefit of long-term savings on installation costs.
Lastly, an artificial backyard putting green from us at Premier Greens is a great way to save time when practicing. Instead of commuting to your local golf course, you can simply walk out your backdoor with your favorite putter and a ball or two and start practicing your short game.
Tips for Maintaining Your Artificial Grass Putting Green
Maintaining a backyard putting green from Premier Greens is easy and requires little from a homeowner in Dallas, TX. Here are some tips to help keep your putting green in optimal condition:
Regularly brush your putting green – You should regularly brush your artificial grass with a gentle broom or rake to help keep the grass blades upright and prevent dirt and debris from settling in. This will also help the turf stay level and look great.
Clean up spills right away – While artificial grass does not absorb liquids, it is best to clean up any spills that may occur as quickly as possible. Even if you think a spill will not harm the turf, letting it sit may lead to potential discoloration or a build-up of materials that could damage it over time.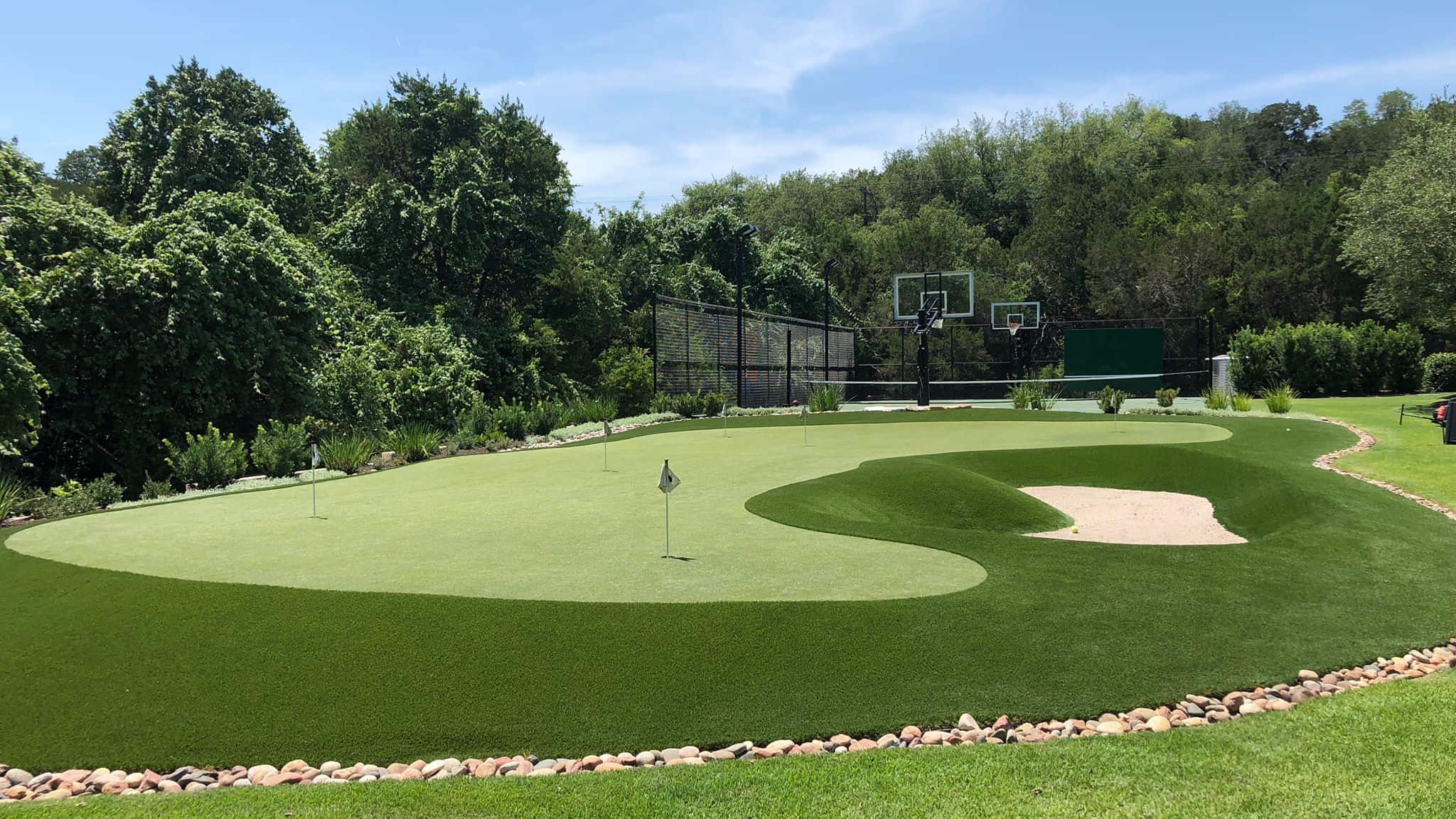 Contact Us Today to Learn More About Backyard Putting Greens
Backyard putting greens from Premier Greens are an excellent way for golfers in Dallas, Texas, to practice their game without worrying about the upkeep of traditional turf. With minimal maintenance and long-term savings, our artificial putting greens can be a great addition to practically any homeowner's backyard. So contact us today to learn more and get a quote!