Commercial artificial grass from Premier Greens serves as an ideal surfacing alternative to natural grass and other materials in Dallas, TX. Unfortunately, commercial businesses often struggle with maintaining their curb appeal and finding proper flooring for unique spaces, like rooftop patios. Materials like natural grass require consistent upkeep and can still have days or even weeks where their appearance is less than satisfactory. Thankfully, commercial artificial landscaping from Premier Greens is a versatile and durable option that can enhance nearly any commercial space in North Texas with long-lasting, consistent visual appeal.
Benefits of Using Artificial Grass for Commercial Properties
Installing commercial artificial grass from Premier Greens can provide local businesses in Dallas-Fort Worth, Texas with several significant benefits, including the ability to help save your company considerable time and money without compromising on curb appeal. The benefits of commercial artificial turf installation include:
Easy Upkeep
Installing artificial grass in or around your commercial property helps eliminate many of the tasks of natural lawn maintenance. This means you will no longer need to worry about activities like lawn mowing, pulling weeds, watering, or applying chemical sprays. Instead, you can spend your time enjoying and admiring a patch of perfectly manicured and green synthetic grass.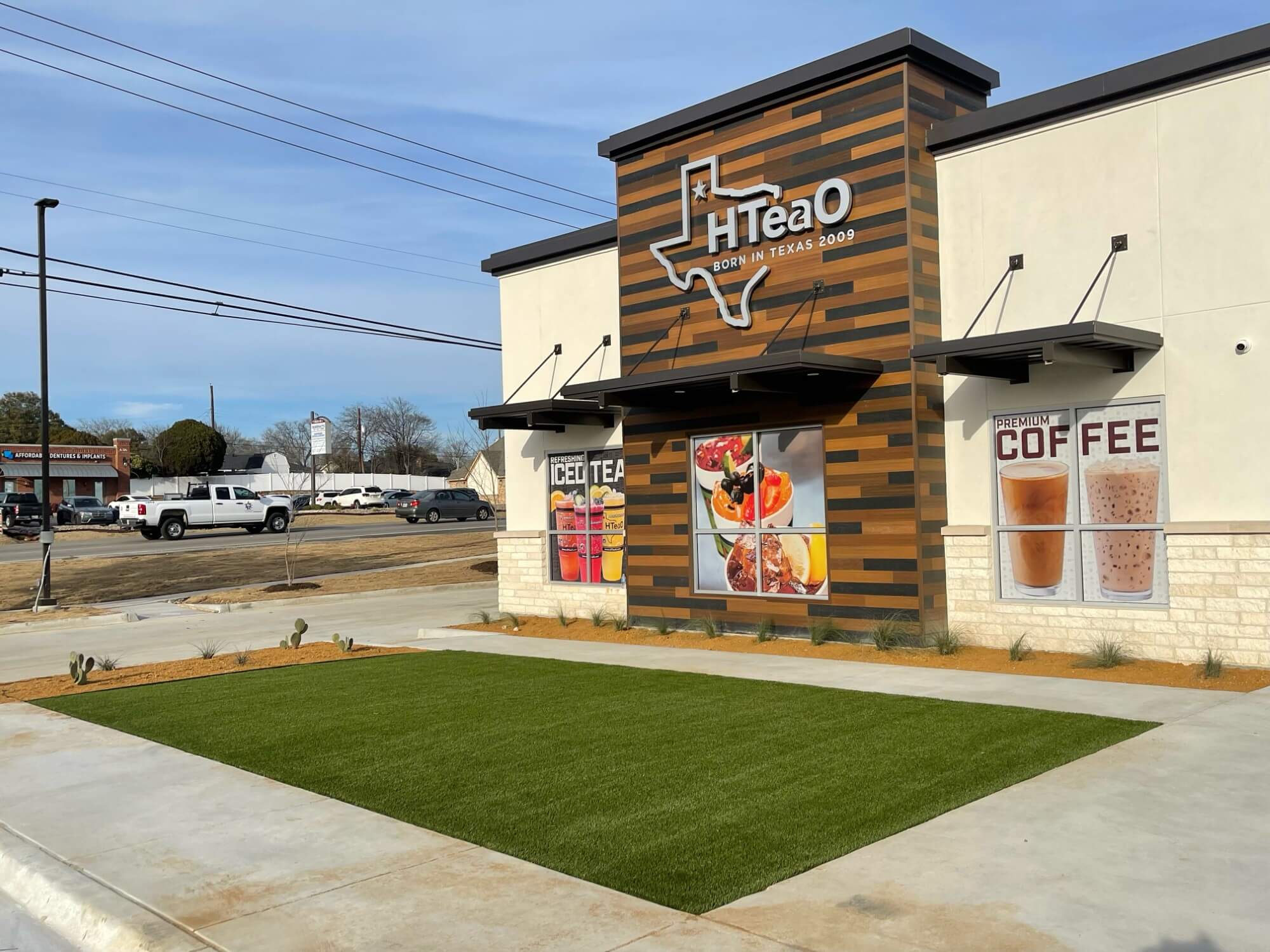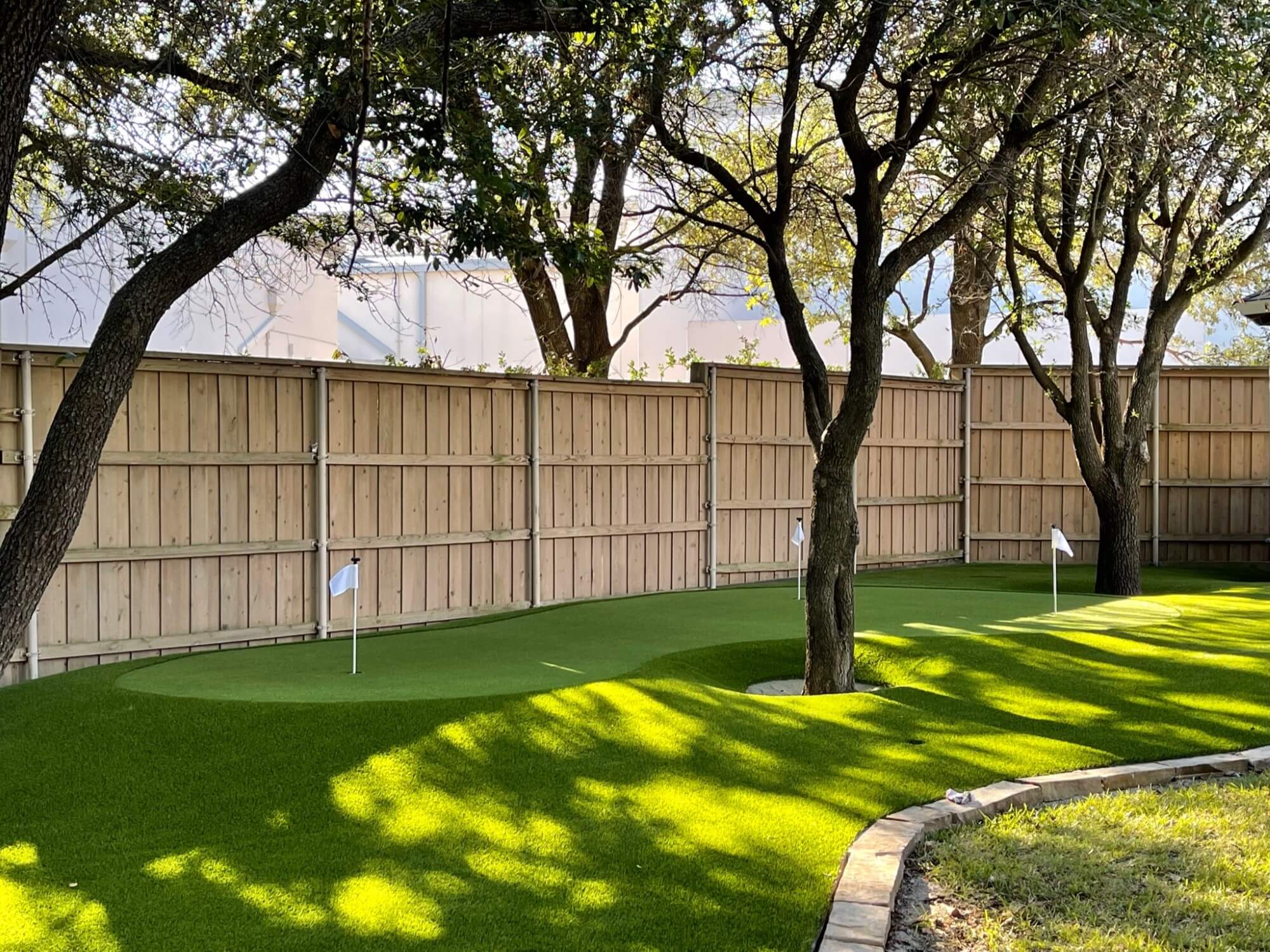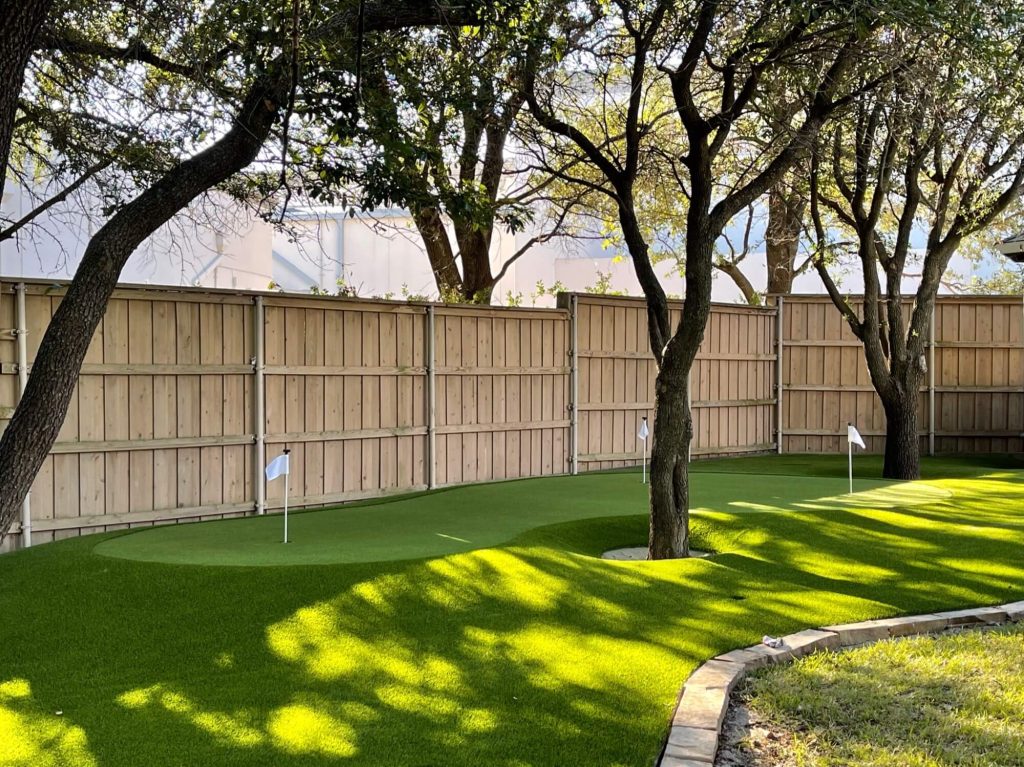 Save Money
How much money could your business save if you didn't have to water grass or pay a landscaping crew? Commercial synthetic grass in Dallas, TX never needs to be watered like a traditional lawn, and it doesn't require the same level of consistent upkeep in order to maintain its appearance. With less maintenance and watering, your business can save money in the long run by installing our high-quality commercial artificial landscaping.
Aesthetically Appealing
Unlike real grass and other landscaping alternatives, our commercial artificial grass always looks aesthetically appealing. It looks lush, green, and perfectly trimmed all year – even when natural grass usually turns brown. Our incredibly durable synthetic turf even holds up in various climates, making it resistant to droughts, torrential rainfall, and snow.
Plus, our commercial synthetic landscaping can fit in nearly any space, especially unique or awkward-sized spaces. With superior artificial grass from Premier Greens, you don't have to worry about areas of your lawn not growing or trying to work around odd structures. Our commercial artificial grass is cut to fit where you need it for your business in Dallas-Fort Worth or other North Texas communities.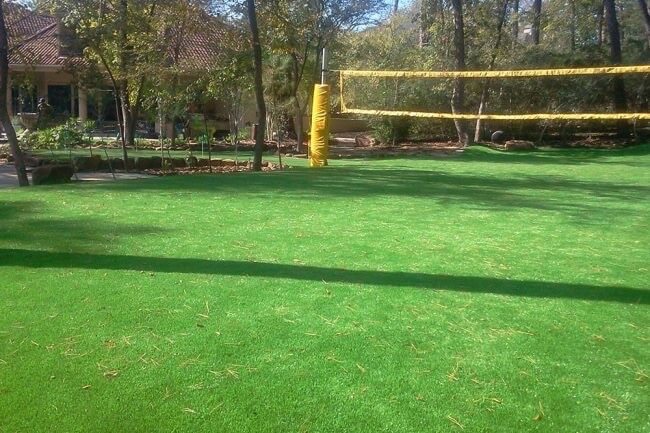 Commercial Applications for Artificial Grass
At Premier Greens, our first-rate commercial artificial grass can fulfill multiple applications to help meet the needs of various types of companies here in The Lone Star State. Our versatile synthetic turf options can help improve indoor and outdoor spaces and wow guests, clients, and employees. These applications include:
Landscaping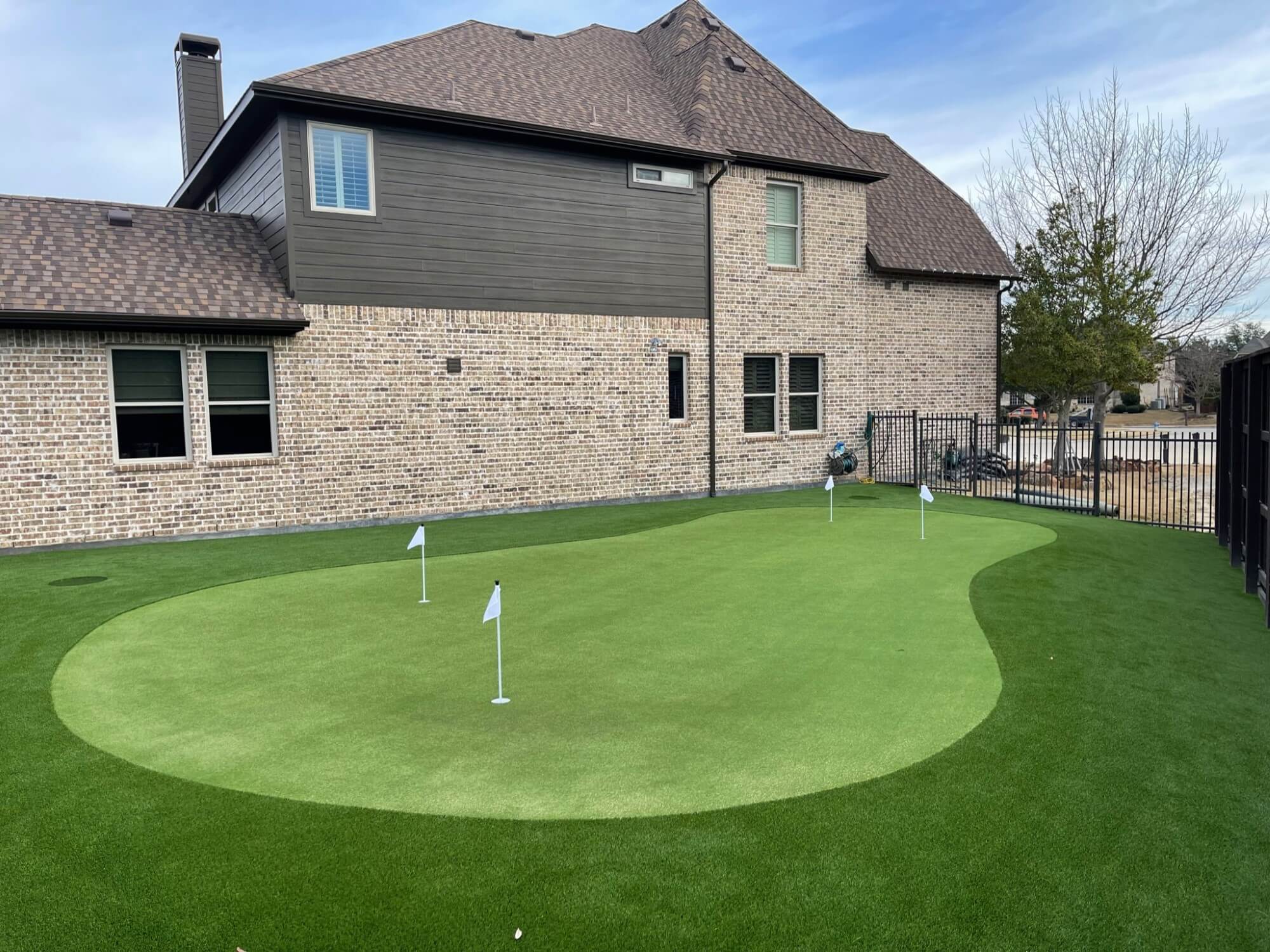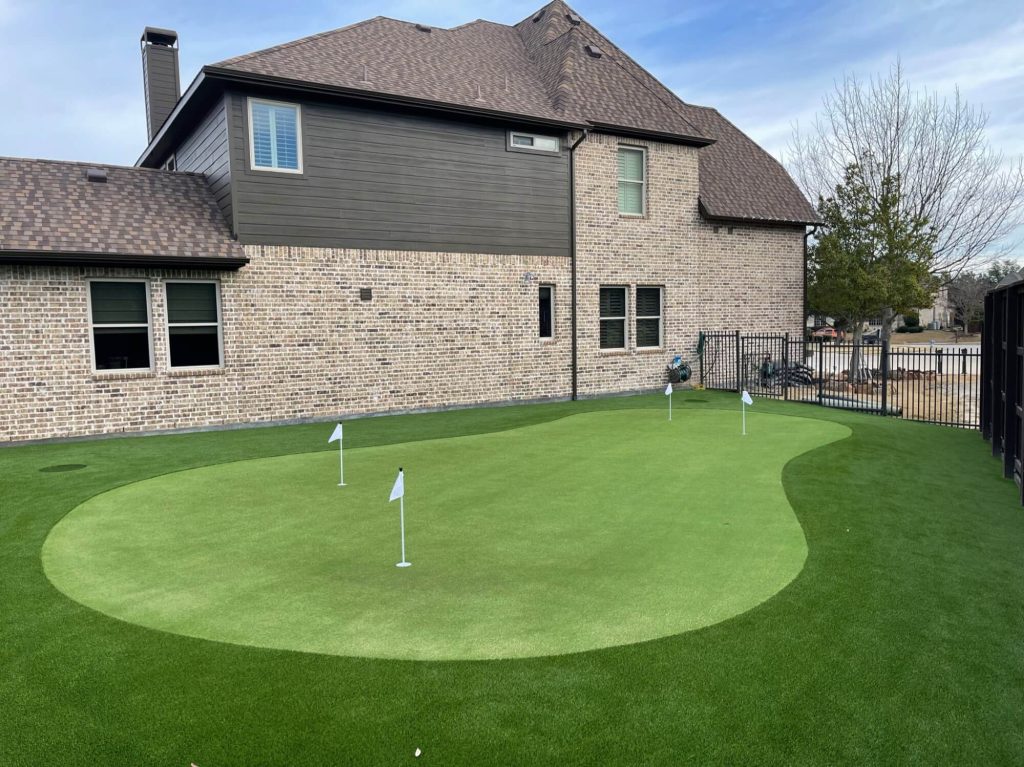 Lush, rolling green artificial lawns can help create curb appeal for businesses, but that's not the only use artificial landscaping can have in commercial settings. Our commercial synthetic turf can also help create more comfortable areas around pools for sunbathers and picnickers. It can also be installed on rooftops and patios as inviting, low-maintenance, and attractive flooring. Installation of our commercial artificial grass is quick and easy, and it stays cooler than many surfacing alternatives.
Athletic Facilities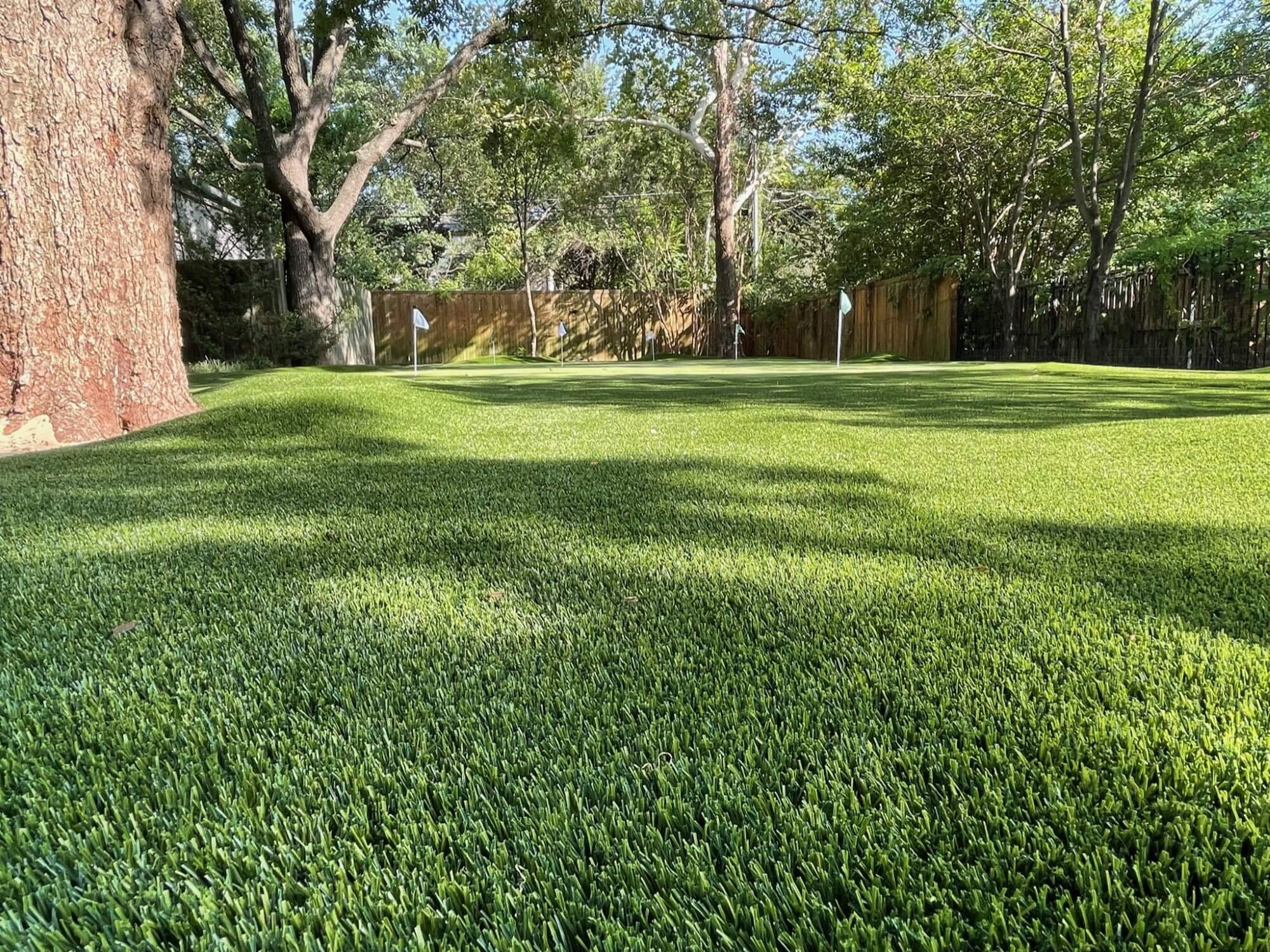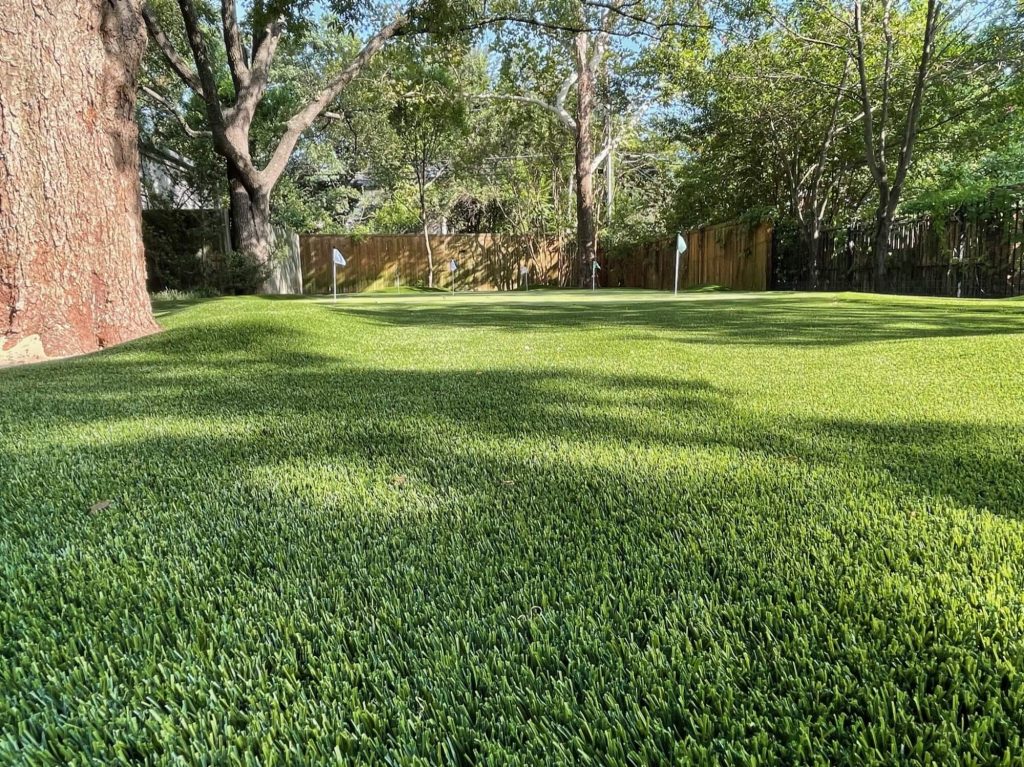 Many sports and athletic activities rely on turf, but natural grass often doesn't hold up against the constant wear and tear. Athletic facilities hosting sports and activities like putting greens, baseball, softball, soccer, and more can benefit from installing durable artificial grass for athletics. Our commercial artificial grass helps keep athletic spaces looking fresh and new without requiring excessive upkeep. Our turf is also a safer alternative for surfacing that can help reduce impact-related injuries.
Commercial Playgrounds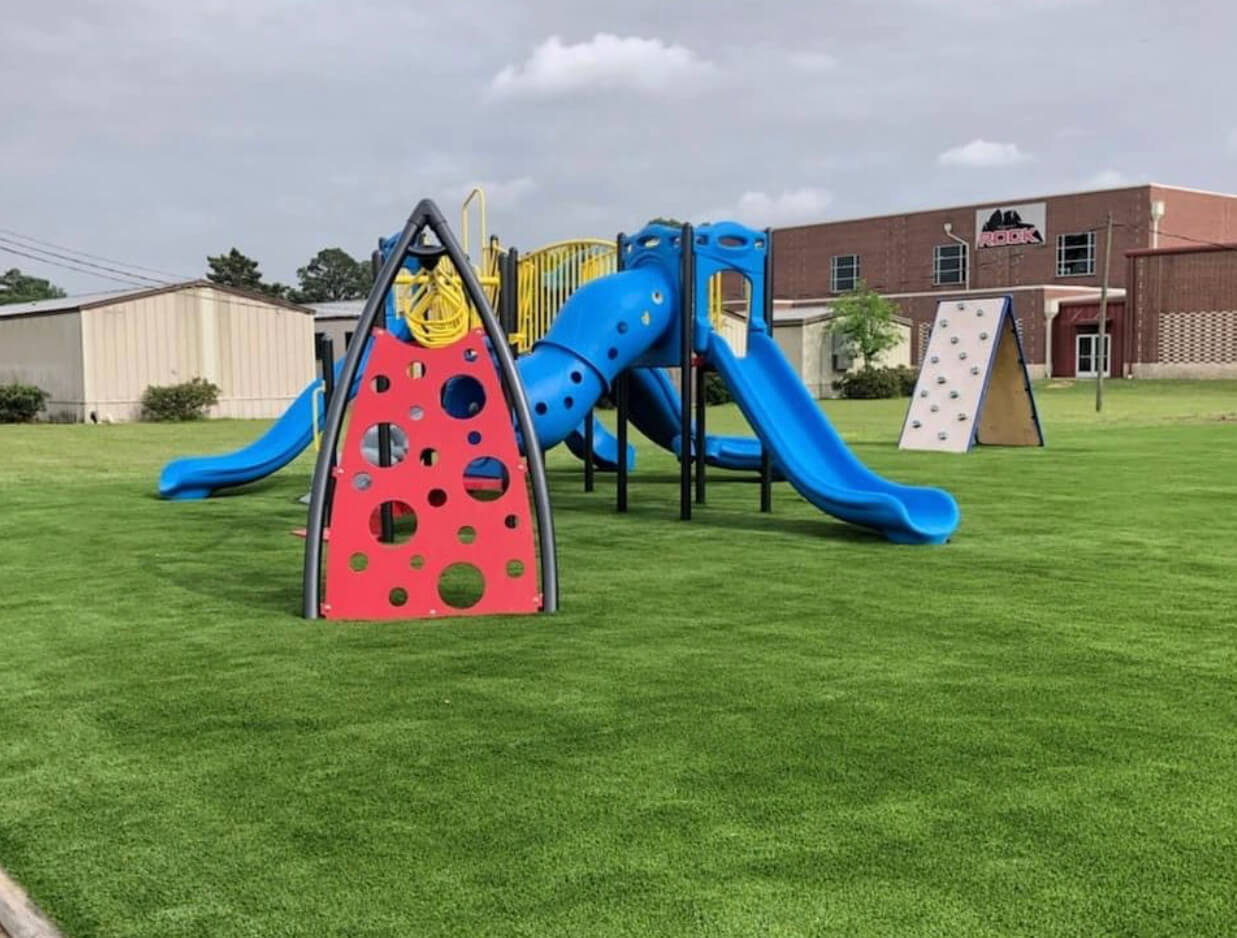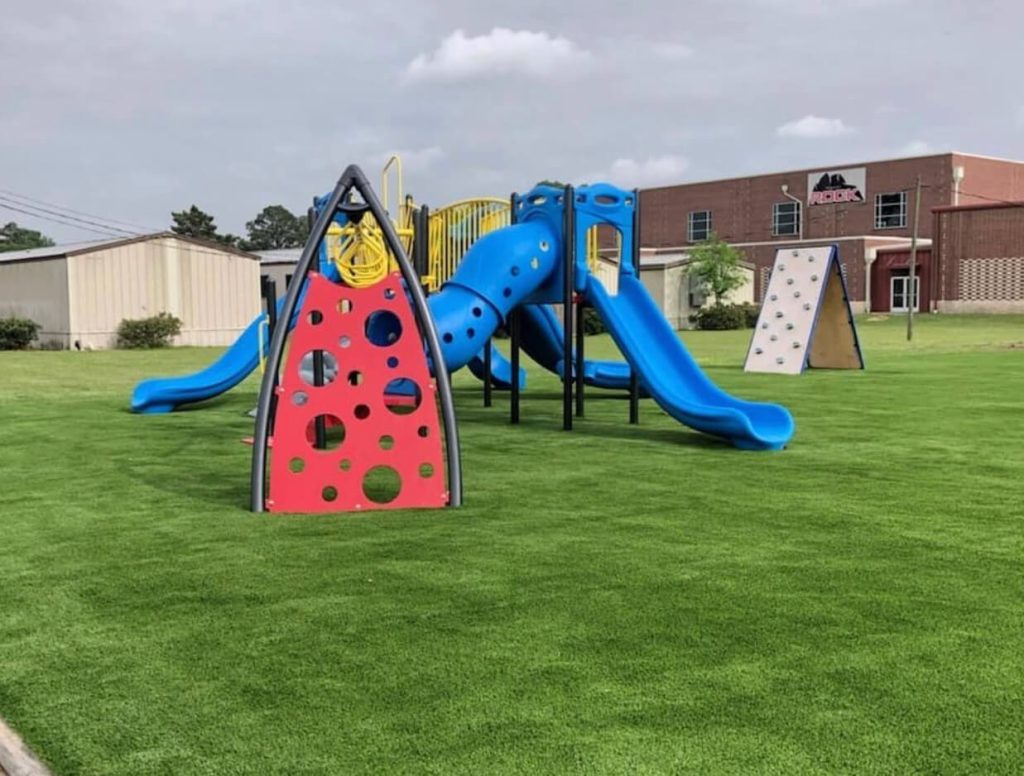 If your business has or desires to build a playground, you need a groundcover that's soft, attractive, and easy to maintain. Fortunately, our superior artificial playground turf provides a safer, cost-effective, and low-maintenance surface for playing on. This is primarily because our playground turf is manufactured with extra cushioning, which can help absorb impacts like running feet, jumping, tumbling, and more. Plus, our synthetic turf does not produce grass allergens, so it won't trigger grass allergies.
Dog Parks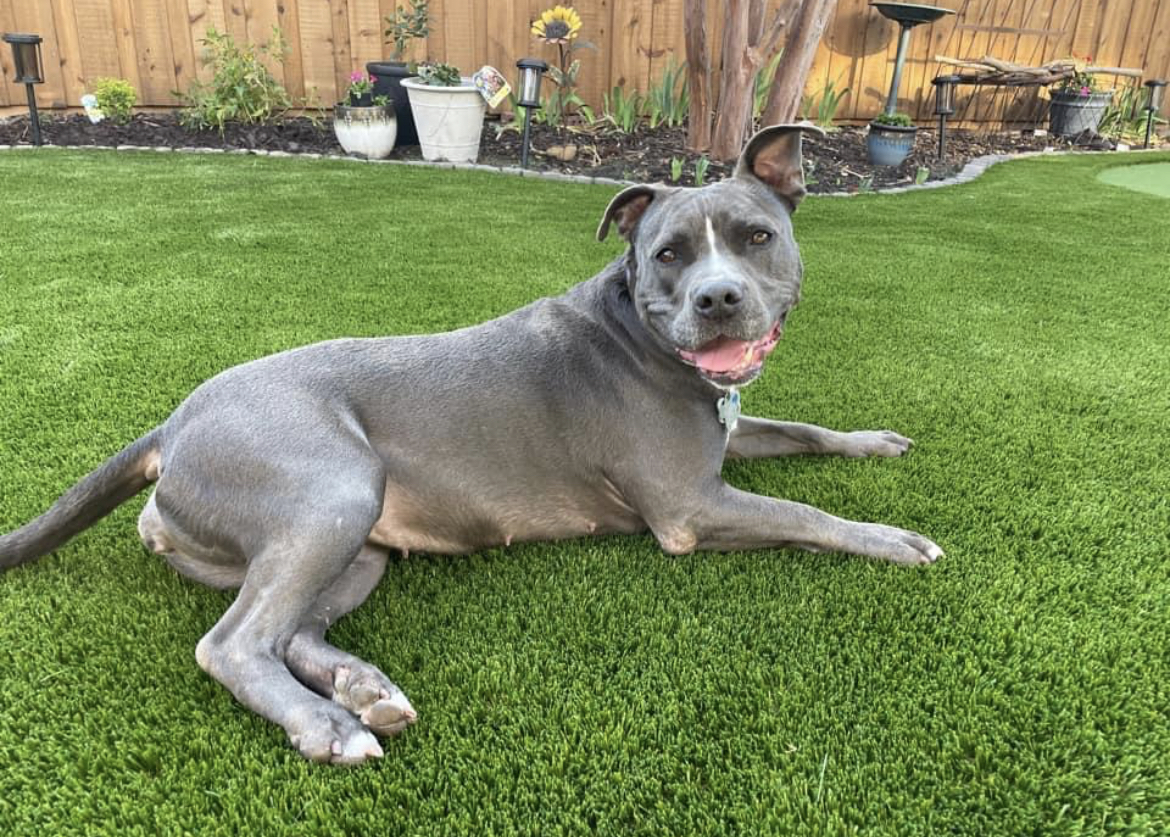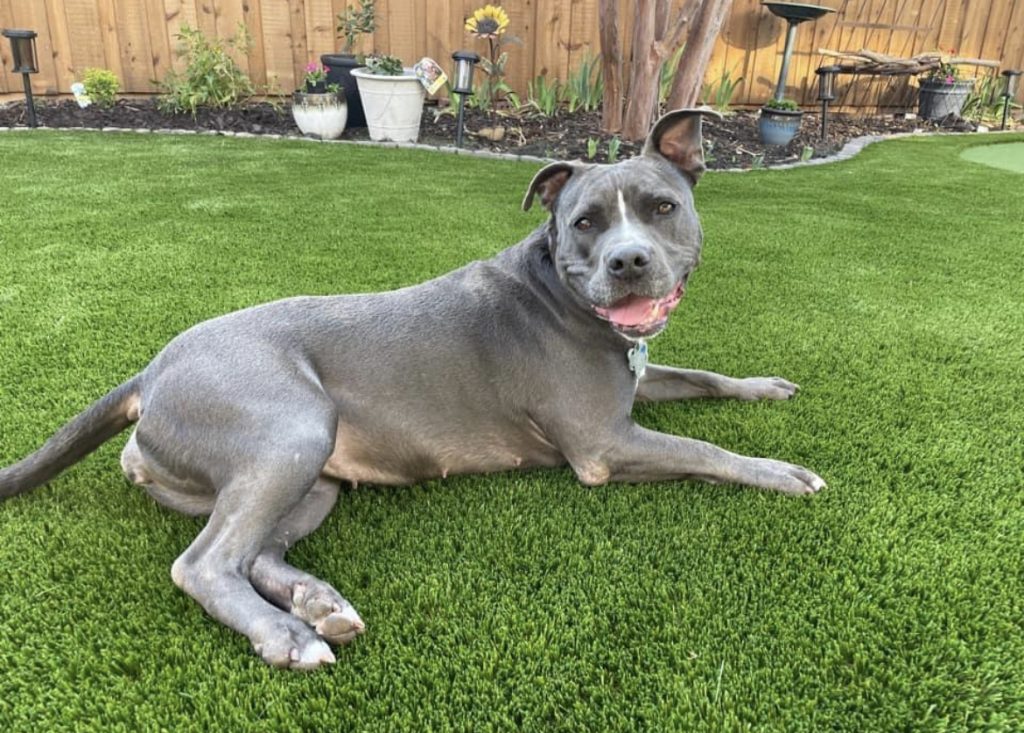 People are not the only ones who can enjoy commercial artificial turf. Our highly durable synthetic pet turf is ideal for pet businesses, such as dog parks or daycares. It provides pets with a soft and cooler surface to enjoy. And for pet business employees, it is quick draining and easy to clean!
Artificial Grass Can Upgrade Your Commercial Space
Commercial artificial grass from Premier Greens is an optimal surfacing solution available to businesses in Dallas, Texas for professional installation. Our synthetic turf is low-maintenance, cost-effective, and attractive year-round. These factors make it a remarkable addition to nearly any commercial space! So whether you need a new lawn, athletic turf, or pet-friendly grass, we have commercial artificial landscaping to suit your needs.
Contact our friendly team today to learn more about our commercial artificial grass options or schedule a free installation consultation!