At Premier Greens, our artificial playground grass is becoming a more and more popular option for commercial playgrounds in Dallas, TX. It offers a safer, cleaner, and more aesthetically pleasing option than traditional turf. It also provides many other benefits that make it an ideal choice for businesses looking to create or upgrade their indoor or outdoor play areas. Details on our synthetic playground turf for commercial properties include:
Benefits of Using Artificial Grass for Commercial Playgrounds
Regarding commercial playgrounds in Dallas, Texas, our artificial playground grass offers many benefits, making it an ideal choice for businesses, schools, parks, and other public spaces. Our artificial playground turf is a safer and more attractive option than most common playground surfaces. This is due to its soft surface and durable construction. In addition, our playground turf has excellent wear resistance and can withstand the heavy foot traffic of children playing on the playground.
At Premier Greens, our artificial playground grass is also low maintenance, making it a great time-saving option for busy playgrounds on commercial properties. It requires no water or mowing, which can aid in saving time and money on upkeep costs. Additionally, our synthetic playground grass does not require chemical treatments or pesticides – a significant plus for those concerned about environmental impact.
The lush green color of our artificial playground turf also provides an inviting atmosphere for children. It also features drainage capabilities, allowing rainwater to quickly run off rather than pooling. This helps ensure children are not running around in puddles during or after wet weather outdoors in Dallas.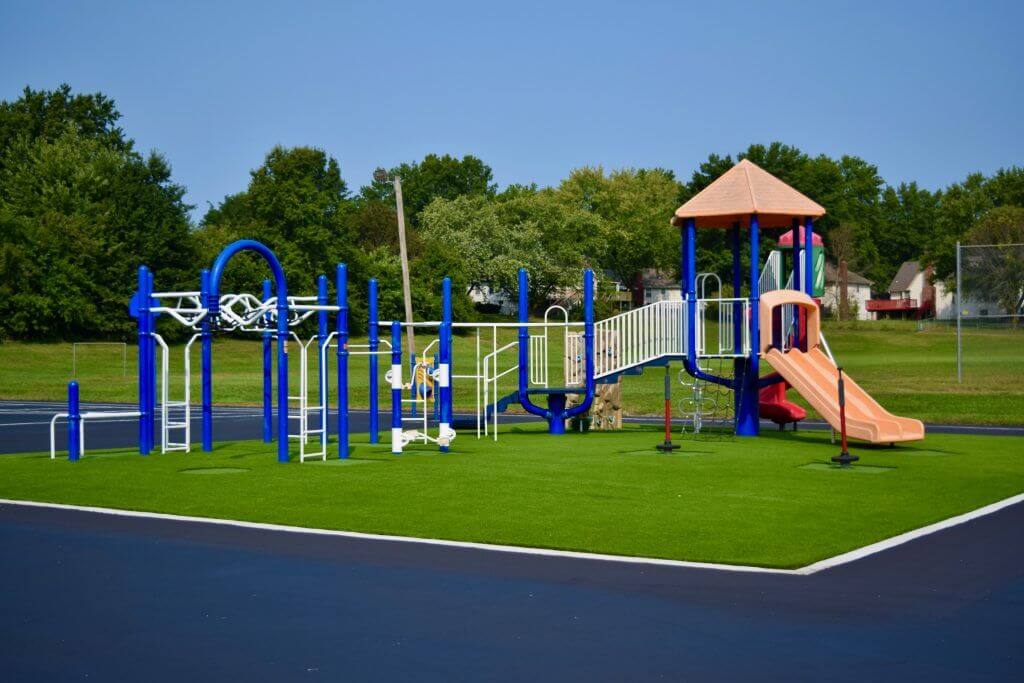 Unlike traditional grass, our synthetic playground turf does not turn muddy when walked on, providing an excellent surface for playground games like tag and more. The padding beneath our synthetic grass also provides cushioning in case of falls – helping to reduce injuries when playing.
Finally, artificial playground grass from us at Premier Greens is designed to be slip-resistant, so children can more safely play without as much worry or fear of slipping or falling over on slick surfaces. This feature makes our synthetic playground turf ideal for commercial playgrounds and play areas where safety is paramount. All of these benefits demonstrate why our artificial playground turf can be an amazing option to improve the look and feel of practically any playground space in Dallas, Texas.
Commercial Applications for Artificial Playground Grass
There are many commercial applications for artificial playground grass in Dallas, TX – from public parks and schools to restaurants, shopping malls, and apartments. Details include: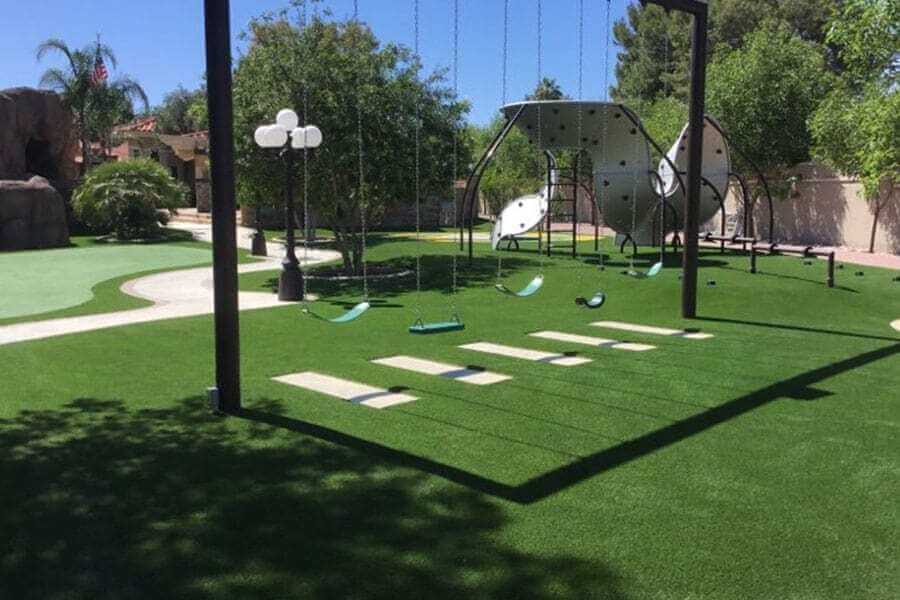 Parks
Parks can benefit from installing our artificial playground grass in their play areas due to its long-lasting quality and aesthetic appeal. Our artificial turf requires no water or fertilizer, making it an ideal choice for those looking to save money on maintenance costs. In addition, playgrounds made with our playground turf can look vibrant year-round, which is more consistent than conventional grass.
Restaurants
Restaurants in Dallas can also install our artificial playground turf when creating indoor or outdoor dining spaces as well. Our synthetic playground grass gives customers a pleasant place to enjoy their meals while providing a durable surface that children can play on. In addition, our playground turf is available in various colors and styles, meaning restaurants have plenty of options when designing an attractive play area for their young guests.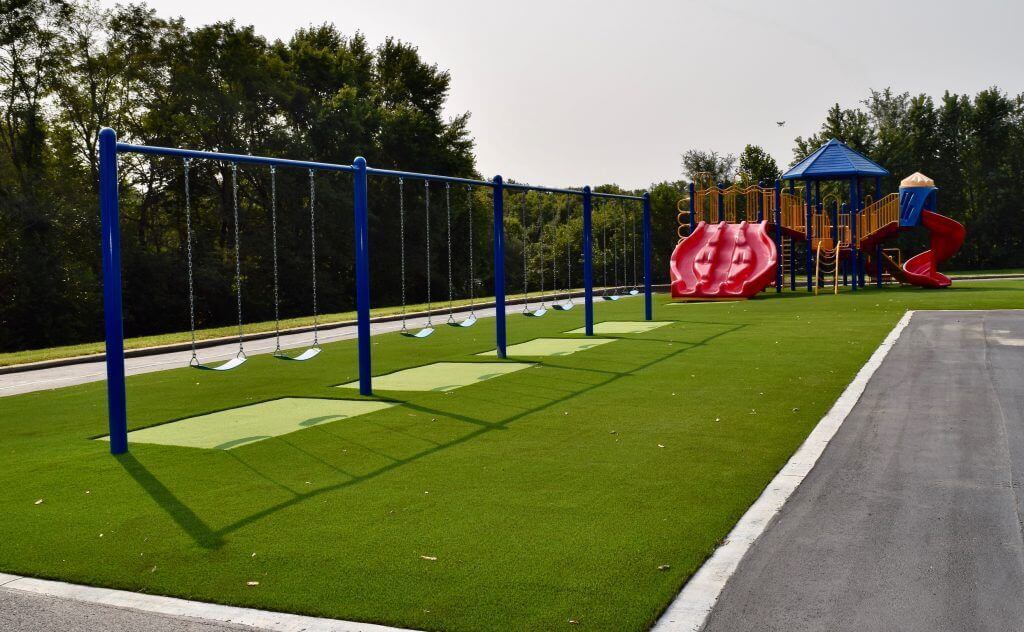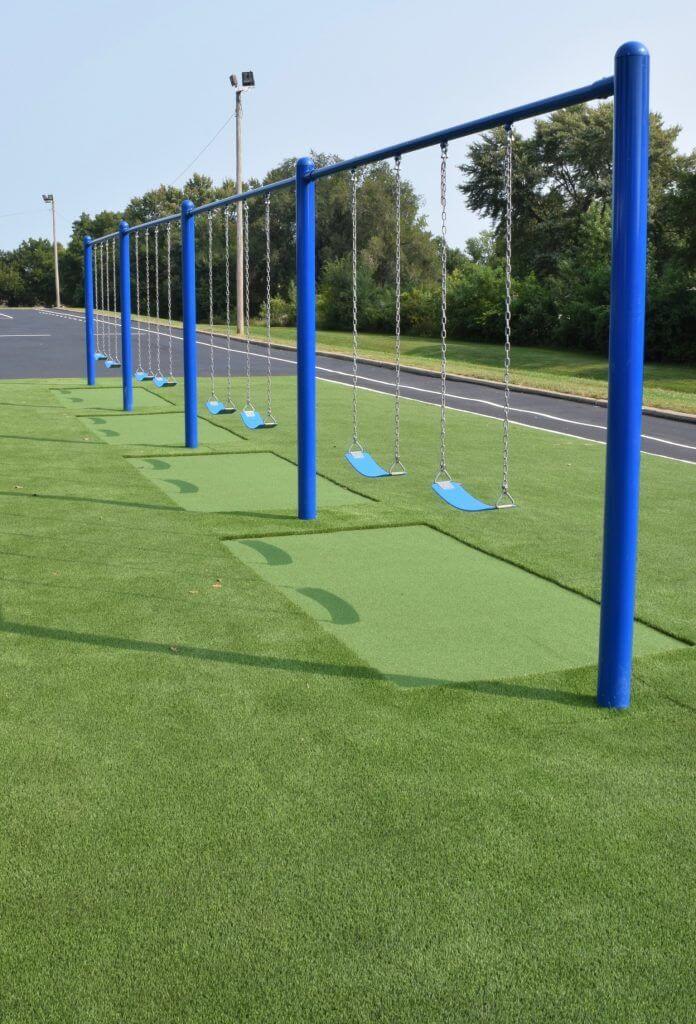 Shopping Malls
At Premier Greens, our synthetic playground grass is also ideal for play areas at shopping malls. Our artificial playground turf requires little-to-no maintenance compared to conventional grass. It provides an aesthetically pleasing feature for shoppers and gives children a space to enjoy as their parents shop.
Apartment Complexes
Artificial playground turf can provide residents of apartment complexes in Dallas, TX, with safer outdoor spaces to relax or let their children play without worrying about potential hazards posed by hard surfaces like cement or asphalt. Our playground turf also eliminates the need for regular care while boasting an attractive appearance – allowing apartment complex owners to provide tenants with safer and more inviting recreational areas without breaking the bank on upkeep costs.
Contact Us Today to Learn More!
At Premier Greens, our artificial grass for playgrounds is a beneficial surfacing addition for commercial play areas and playgrounds in Dallas, Texas. It is a softer, safer surface than many common playground surfacing materials. It is also attractive and low-maintenance.
Contact us today to learn more and get a quote for your commercial property!