At Premier Greens, we offer homeowners astonishingly beautiful and playable backyard putting greens in Dallas and Fort Worth, TX. It all starts with our artificial golf greens, which are among the best in the artificial grass industry. By pairing this fantastic product with our expertise in synthetic turf design and installation, we provide backyards all over the North Texas area with stunningly green, durable, and enjoyable artificial grass putting greens.
Artificial Golf Grass From Premier Greens
In general, artificial turf is available in different specializations, shadings, blade heights, and more. At Premier Greens, we carry a wide variety of synthetic grass types to fit into these categories. One of our many top-quality artificial grass products is our synthetic golf greens.
Our artificial golf grass is a form of synthetic turf that has been specially engineered to capture the ideal surface for the game of golf, specifically putting. As such, our artificial golf turf is beautifully green, durable, low maintenance, and even in consistency. This allows it to provide a surface for golf that rivals even the best traditional greens that pros utilize. Best of all, this amazing golf surfacing is available for residential installation from Premier Greens in backyards in Dallas and Fort Worth, TX.
Advantages of Backyard Putting Green Installation in Dallas, TX
Backyard putting greens designed and installed by Premier Greens offer homeowners in Fort Worth and Dallas, Texas numerous advantages, especially when compared to the alternatives. These advantages include the following:
Convenience
Arguably, the most significant advantage of owning your own backyard putting green is the convenience. Most golfers need to travel to a golf course or other golf facility to practice their putts. But with an artificial grass putting green just outside your backdoor, you can practice as often as you like – without having to travel anywhere!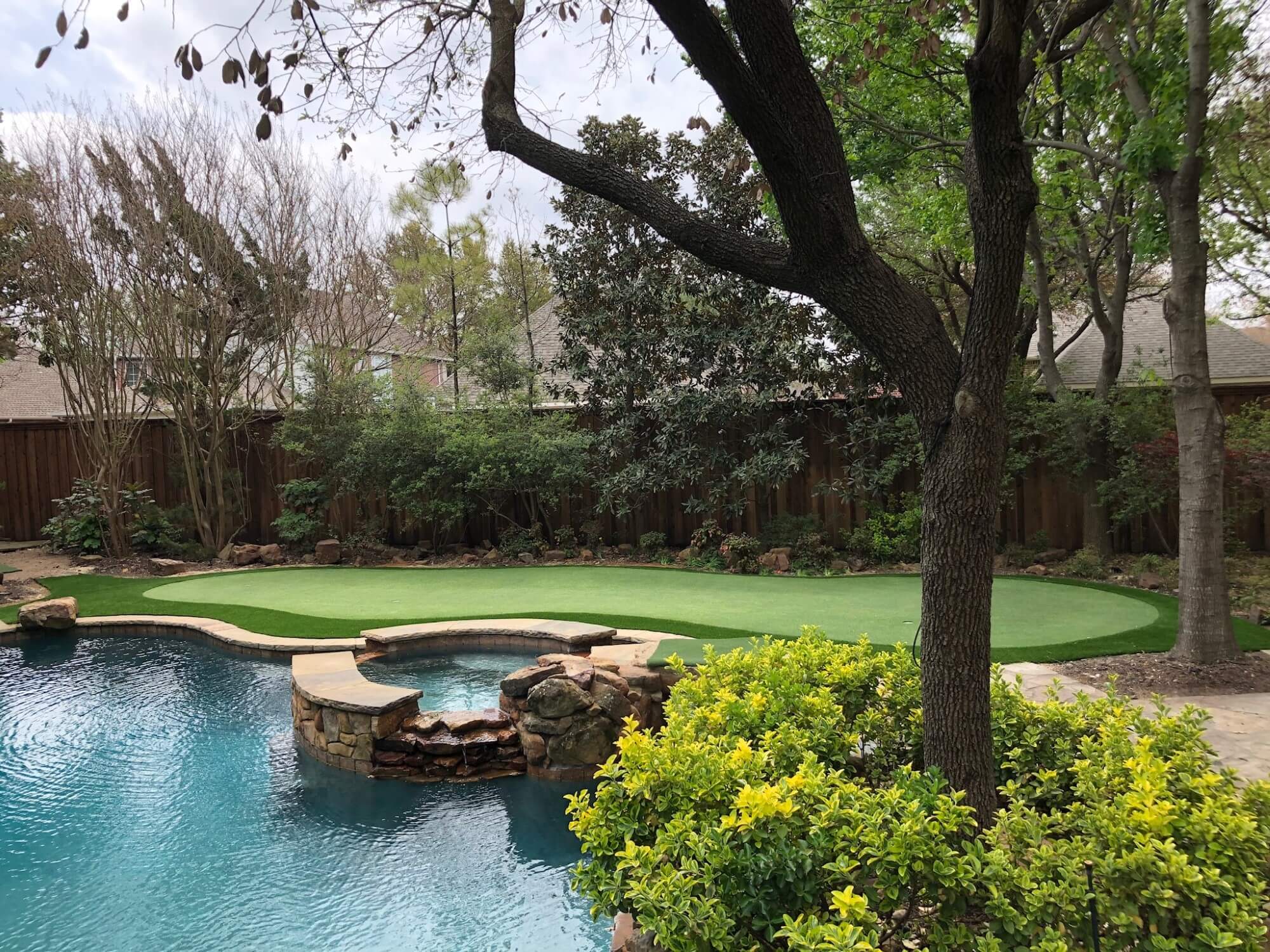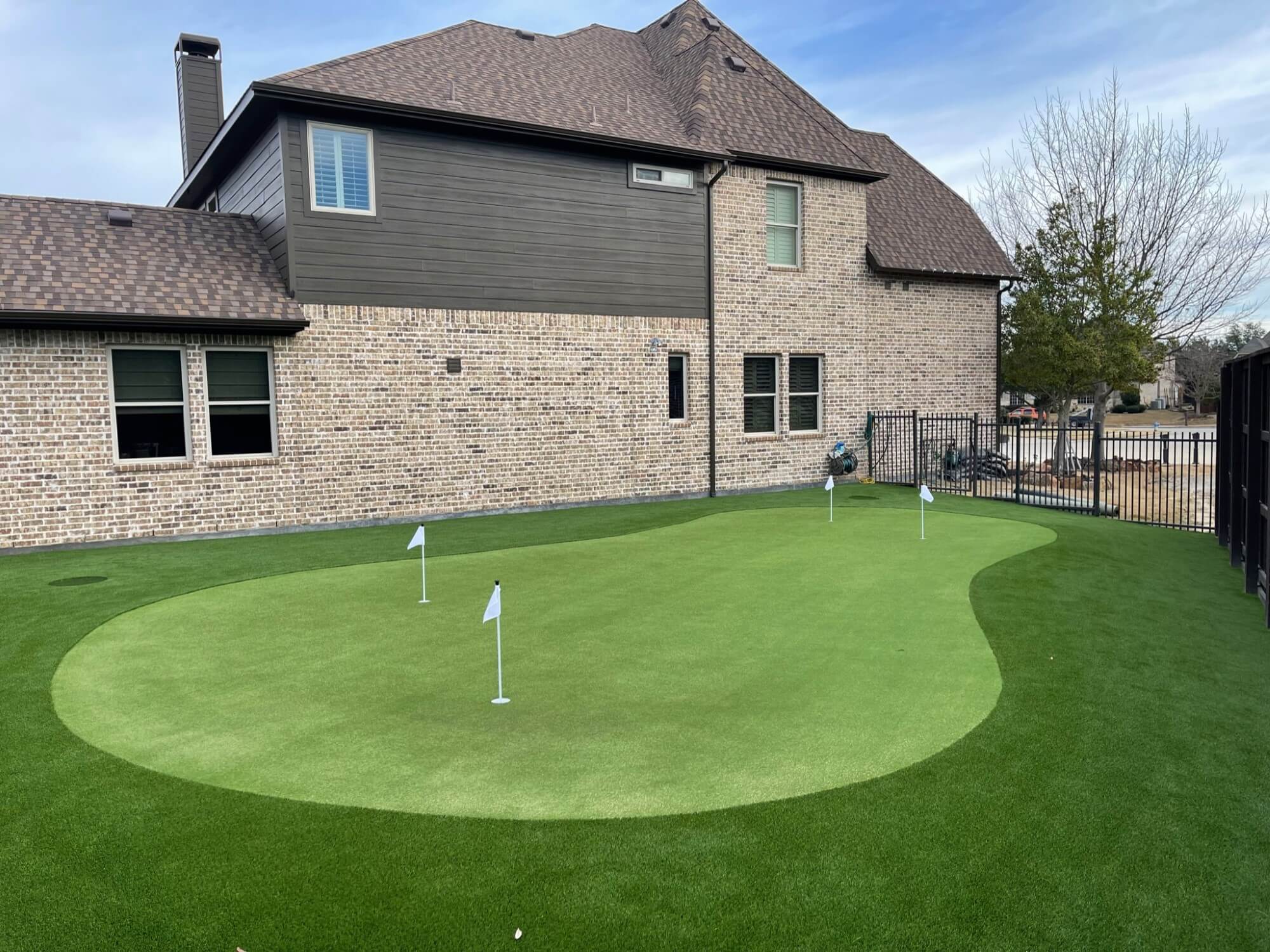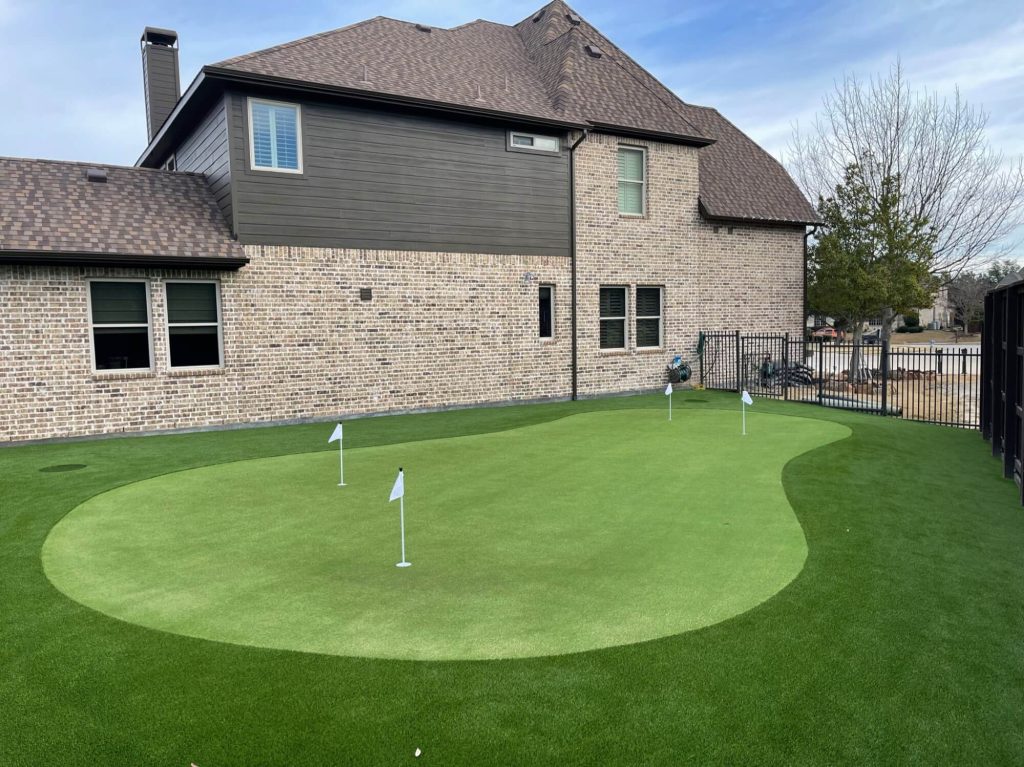 Versatility
Despite being designed for golf, our artificial golf greens are highly versatile. This is due to their enhanced durability. As such, our backyard putting greens can be used for numerous outdoor activities, including putting, picnics, lawn games, and so much more. Even children and pets can enjoy our soft, green putting greens!
Beauty
Like our other artificial turf products, our backyard putting green turf is stunningly lush and green. It resists fading as well as wear and tear. Plus, it never turns brown or dies off like traditional grass. This makes our synthetic golf grass a beautiful addition to any home in Dallas or Fort Worth, Texas.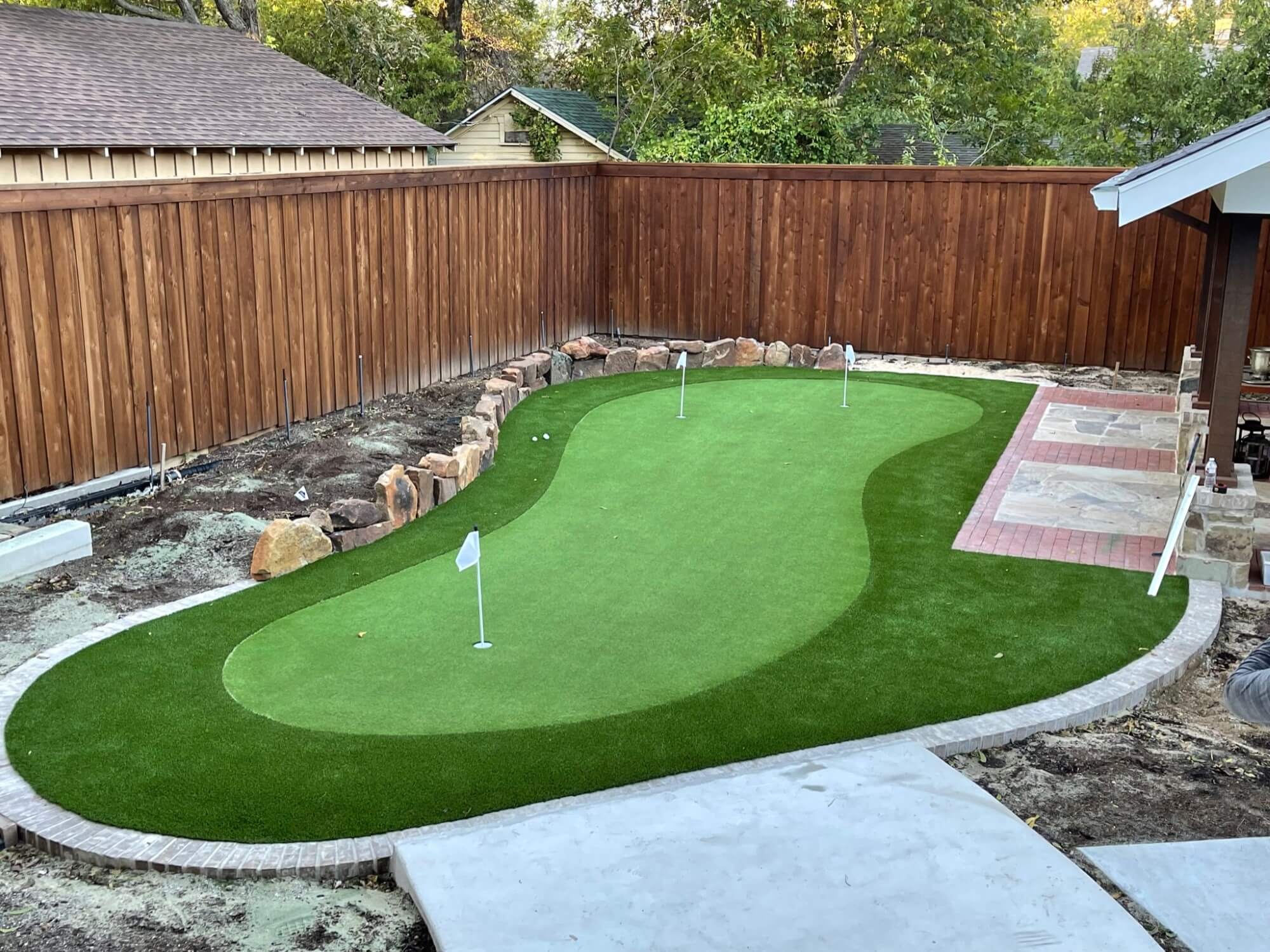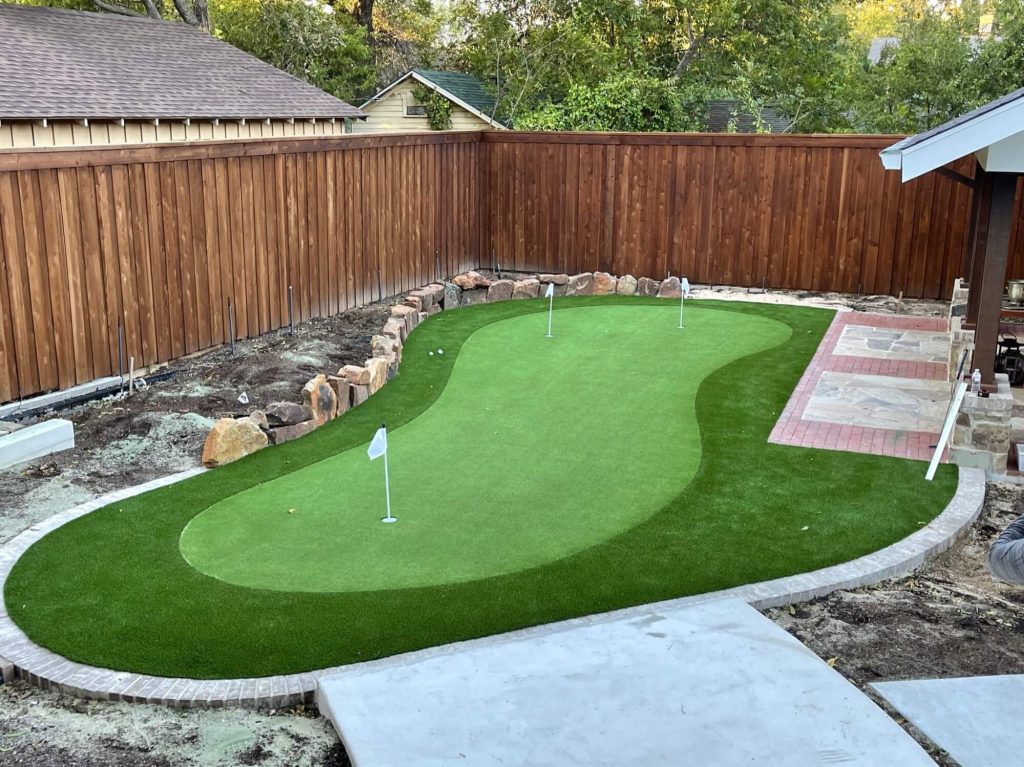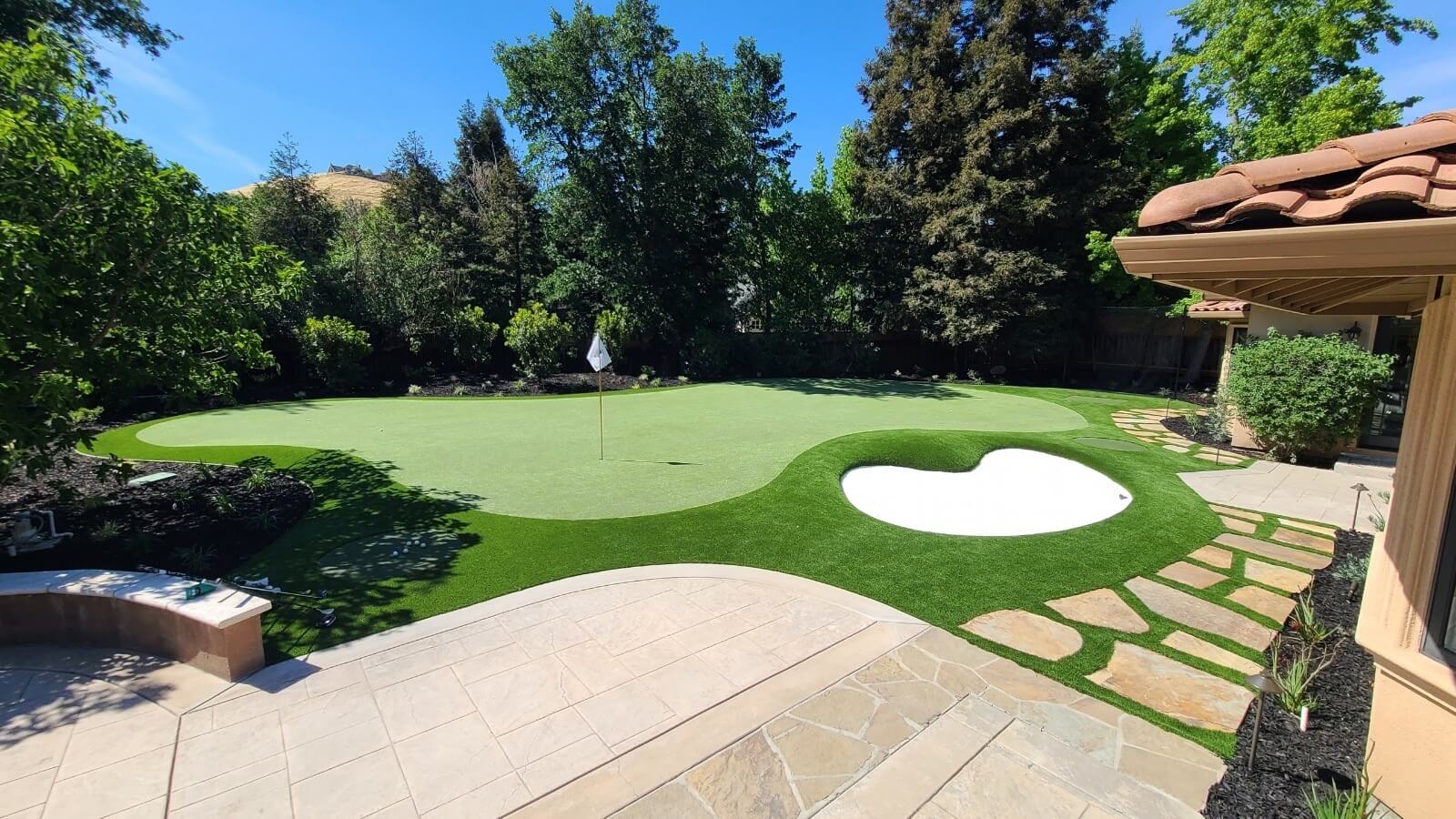 Low Level of Maintenance
Traditional golf greens are usually one of the most time-consuming types of grass. Every blade must be perfectly trimmed, or else your golf ball may not roll as intended. Thankfully, our artificial putting greens require little to no maintenance. They never need to be trimmed or even watered, making them a time and money-saving alternative.
Cost-Effectiveness
By eliminating most forms of traditional grass maintenance, our synthetic golf putting greens are incredibly cost-effective. Yet, this is not the only way they are cost-effective. Consider all of the ways you can save by owning a backyard putting green. For example, you can eliminate the number of commutes you make to a golf course because you can practice at home. You can also cut back on family outings and instead enjoy time with your loved ones in your backyard. With an artificial putting green on your property, you have many possibilities for entertainment and saving money.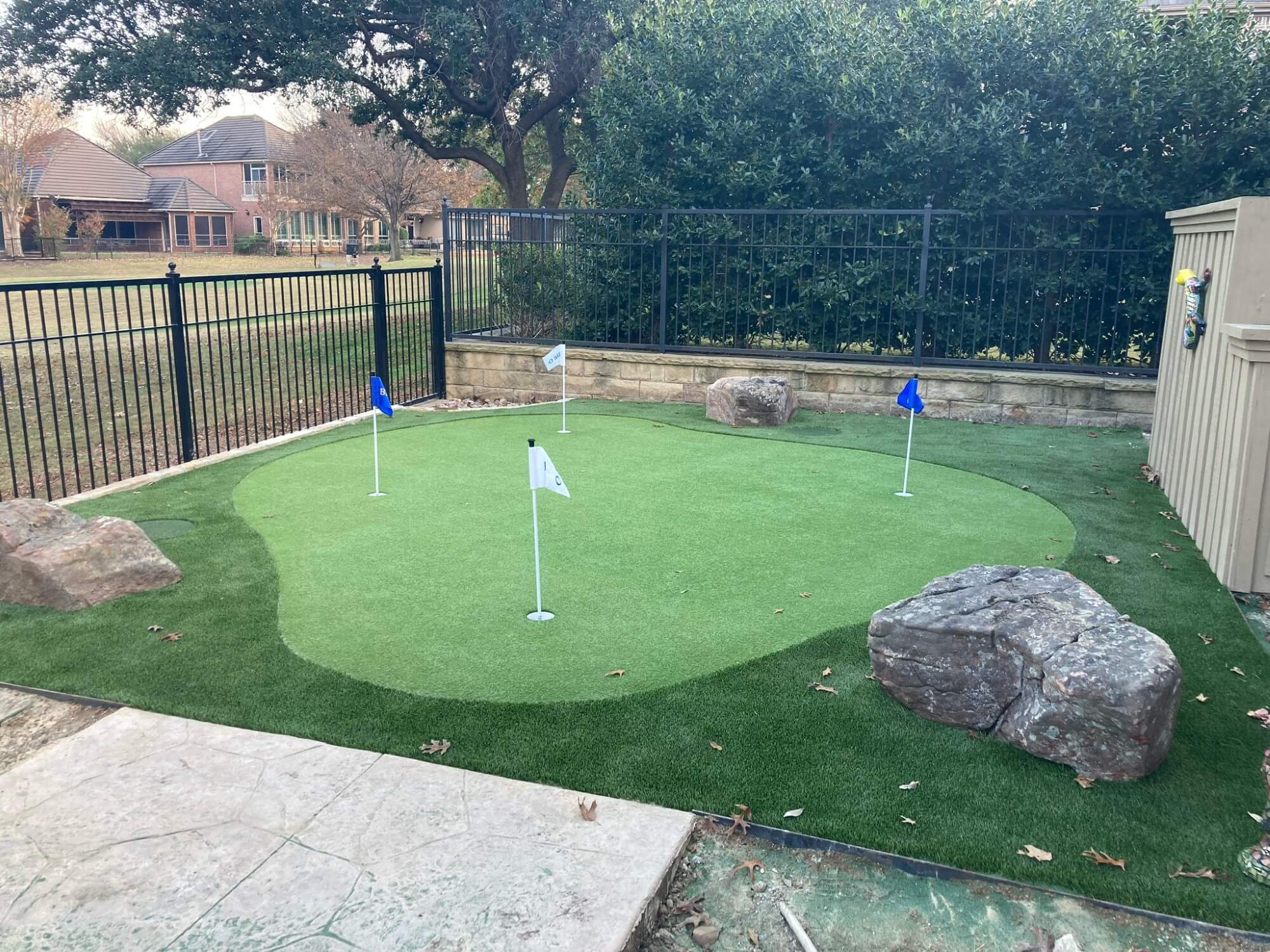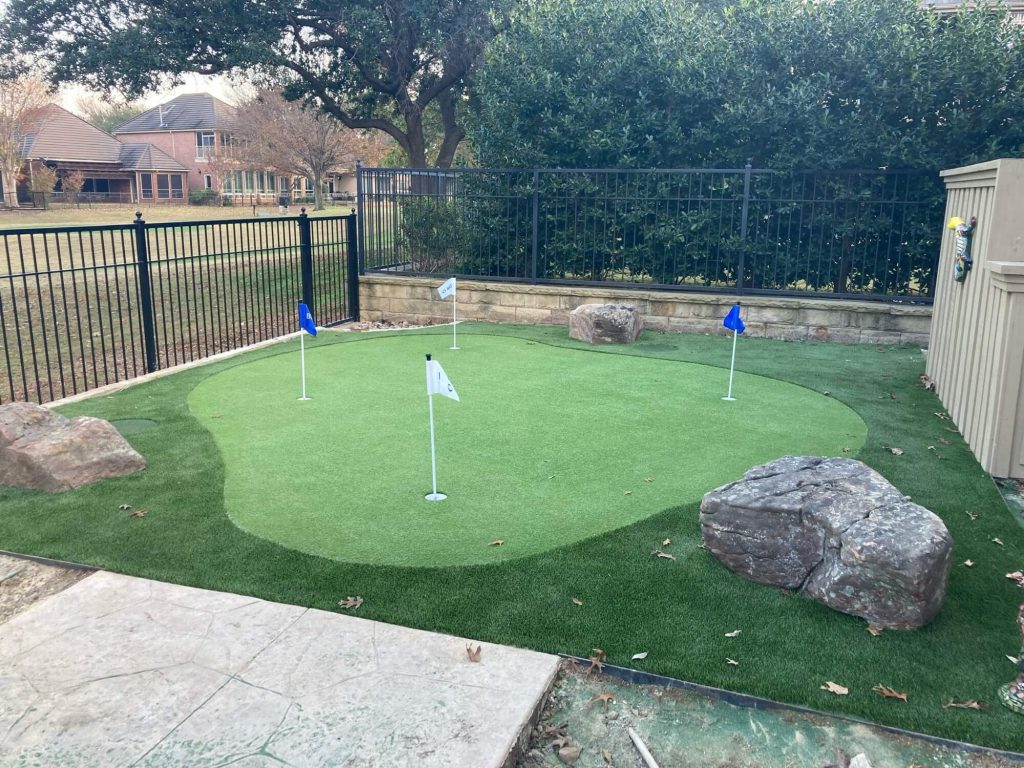 Why Choose Premier Greens for Artificial Grass Putting Greens?
At Premier Greens, we are a leading supplier, designer, and installer of artificial grass in North Texas. Our team serves multiple communities, including Dallas and Fort Worth, TX. With our remarkable turf products and expertise, we can help provide you with the residential green space of your dreams.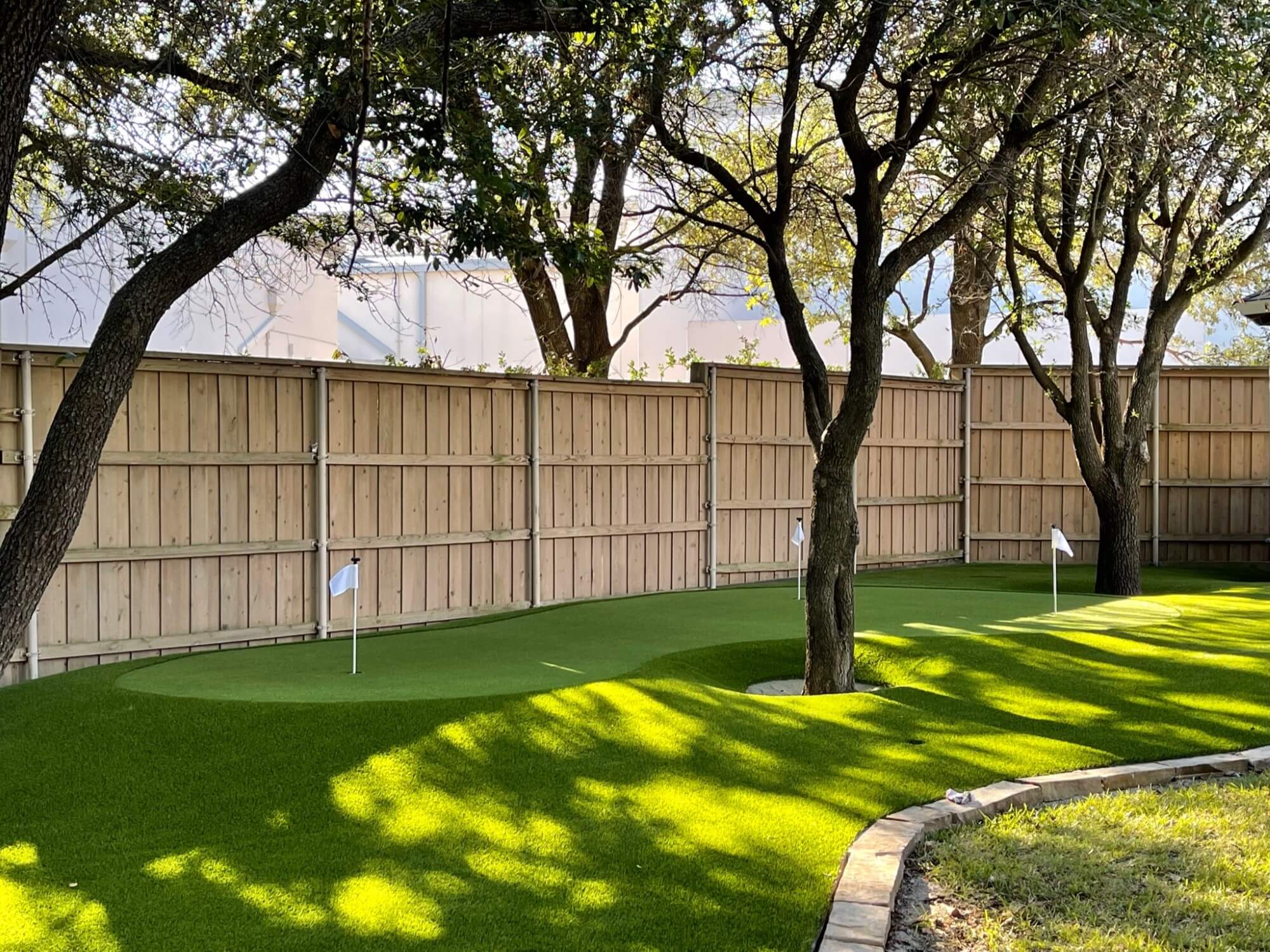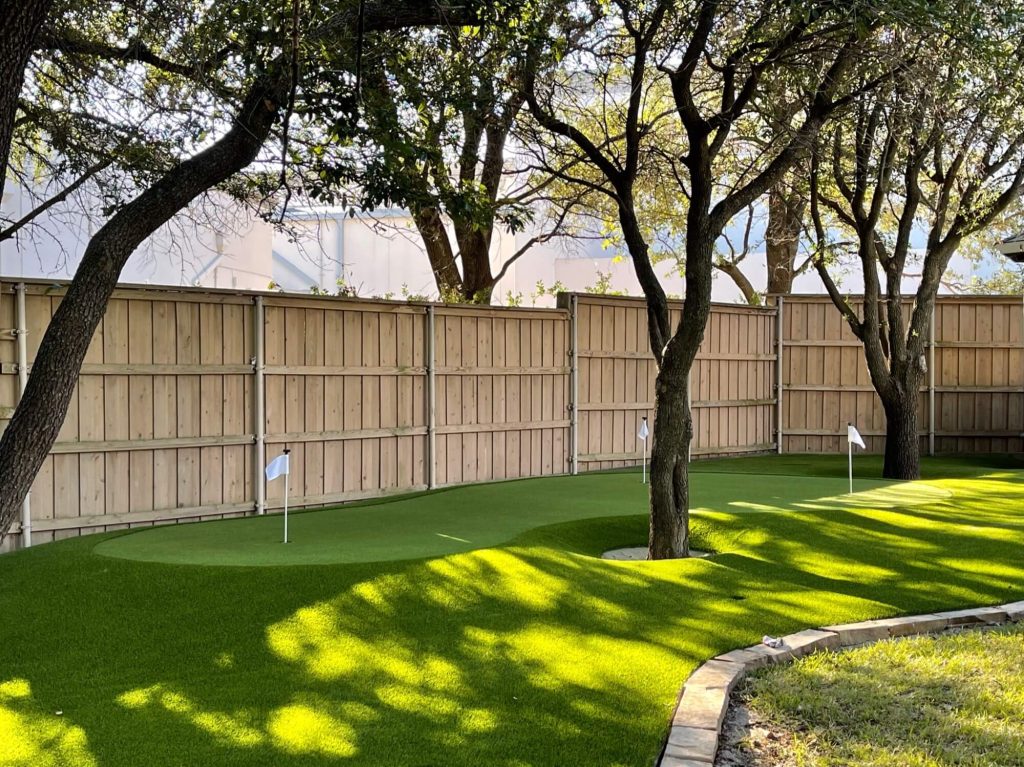 Get a Quote for Backyard Golf Greens Today!
Exceptional backyard putting greens are attainable for homeowners in Dallas and Fort Worth, TX from the team at Premier Greens. Our artificial golf grass provides an ideal playing surface that maintains a beautiful, consistent look that resists wear and tear. Best of all, by owning a synthetic putting green in your backyard, you can practice whenever you like!
Contact us today to schedule a free artificial grass putting green consultation for your backyard!