Indoor putting greens are available for installation in homes and businesses all across Dallas, TX from the specialists at Premier Greens. Each of our incredible installations is made from premium artificial grass that has been specifically designed for the game of golf. This makes our indoor practice putting greens easy to care for and highly durable. So consider adding one to your residential or commercial property in Dallas, Texas today!
Celebrity-Endorsed Artificial Golf Grass From Premier Greens
At Premier Greens, we offer a variety of remarkable artificial turf products, including our celebrity-endorsed synthetic golf grass. This incredible surfacing material is utilized in each of our artificial golf installations – from backyard putting greens to tee lines and mini golf courses. It not only reduces maintenance while offering a lush, green appearance that is always perfectly manicured, but it also mimics the type of surface you would expect from a course used on the professional tour. Ultimately, this makes our artificial golf grass exceptionally user and owner-friendly!
Residential Indoor Putting Greens
Residential properties in Dallas and other North Texas areas are among the many properties that can benefit from an indoor putting green. At Premier Greens, our team wants to make the installation process as easy as possible for you, so we are always prompt, friendly, communicative, and dedicated. We will work with you to design a putting green that fits your indoor space – whether it's an entertaining area, basement, or other indoor space.
Once installed, your artificial indoor putting green will provide you with unrivaled convenience. Instead of driving to your nearest golf course to practice your short game, you will be able to practice whenever you like from the comfort of your own home! This can give you an unprecedented advantage over your fellow golfers, who will undoubtedly be impressed by your quick improvement.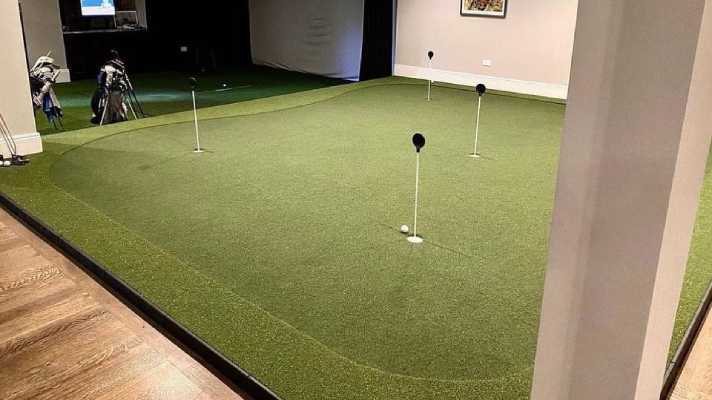 Commercial Indoor Putting Greens
Commercial properties like golf facilities, offices, restaurants, shopping malls, and more can also make great use of our indoor putting greens. They can provide you, your employees, and your customers with an entertaining activity that makes your property feel unique. Best of all, our durable, low-maintenance artificial turf indoor putting greens offer this without requiring an abundance of repairs or upkeep expenses over time. This makes them a functional, fun, and long-lasting addition to your business that can help lead to a more enjoyable atmosphere inside your commercial property.
Benefits of Our Premium Synthetic Golf Turf
The inclusion of our artificial golf turf in your residential or commercial indoor putting green can provide you and your golfers with a number of substantial benefits, including the following:
Convenience
Lush, green beauty
A consistently trimmed appearance
Highly playable surface
Versatile golf grass
Enhanced durability
Little to no maintenance
No mowing or precise trimming
Helps conserve water
Cleaner grass surfacing
Unlike traditional golf greens, our artificial golf grass helps save you time and money on upkeep while providing unmatched green beauty as well as an ideal surface for golfing. This makes it a phenomenal choice for indoor putting greens in Dallas, TX!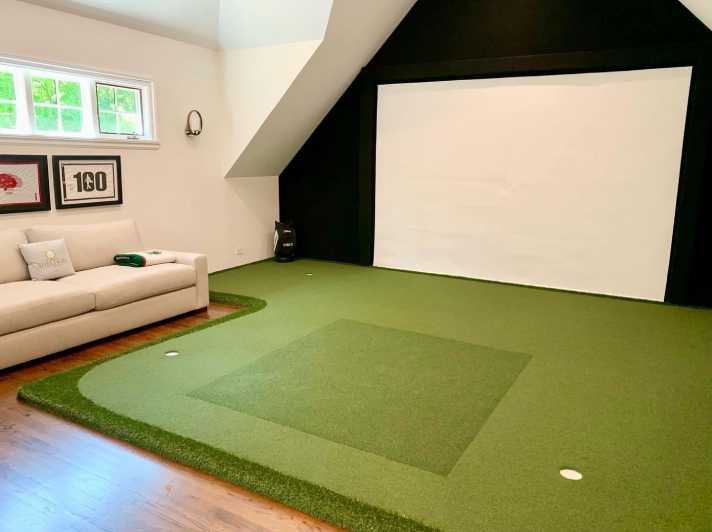 Why Choose Premier Greens for Indoor Practice Putting Greens in Dallas, TX?
At Premier Greens, our team of artificial putting green professionals provides extraordinary golf installations throughout Dallas and North Texas. We will work with you to help bring your vision to life. And with our premium synthetic golf surfacing, you can rest assured that your indoor putting green will be a beautiful, long-lasting feature you and other golfers can enjoy for years to come!
Schedule an Indoor Putting Green Consultation Today!
Indoor putting greens from Premier Greens are an exceptional addition to residential and commercial properties in Dallas, TX. They allow golfers to experience all the joys and playability of traditional greens but without all the hassles of maintenance or worries about usability during inclement weather.
Contact us today to schedule a free indoor putting green consultation to learn more!