Kid Safe and Fun!
Premier Greens helps make children's play areas on residential and commercial properties safer and more durable with our artificial playground turf, which is available for installation in Dallas, TX, Fort Worth, TX, and other Northern Texas communities. Make your backyard, commercial play area, park, or school playground greener, safer, and more resilient without any need for additional maintenance with our synthetic playground grass.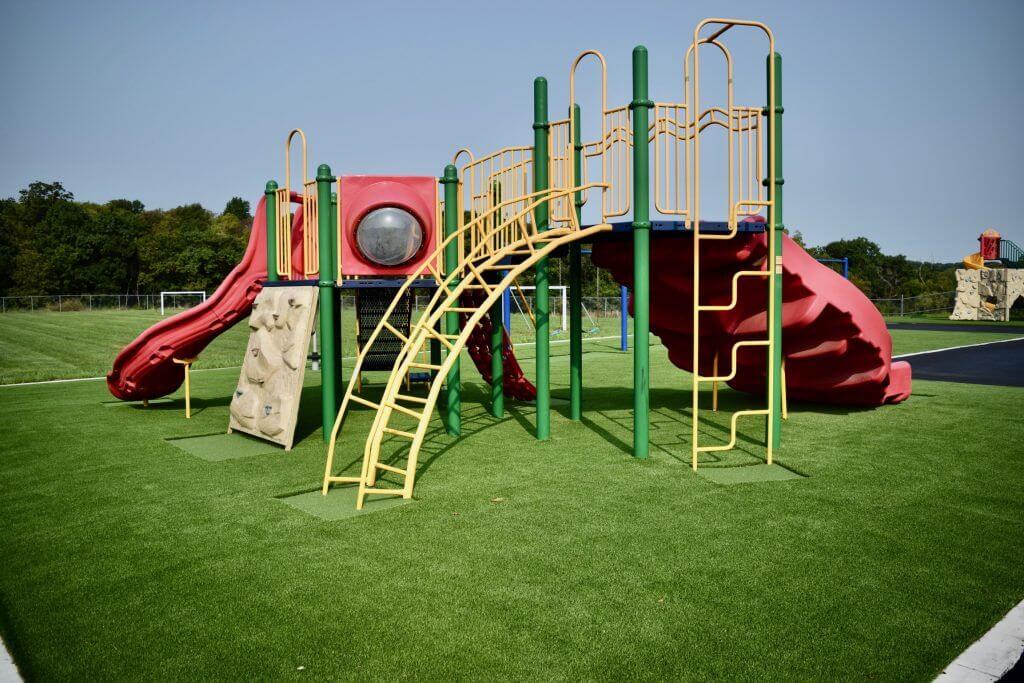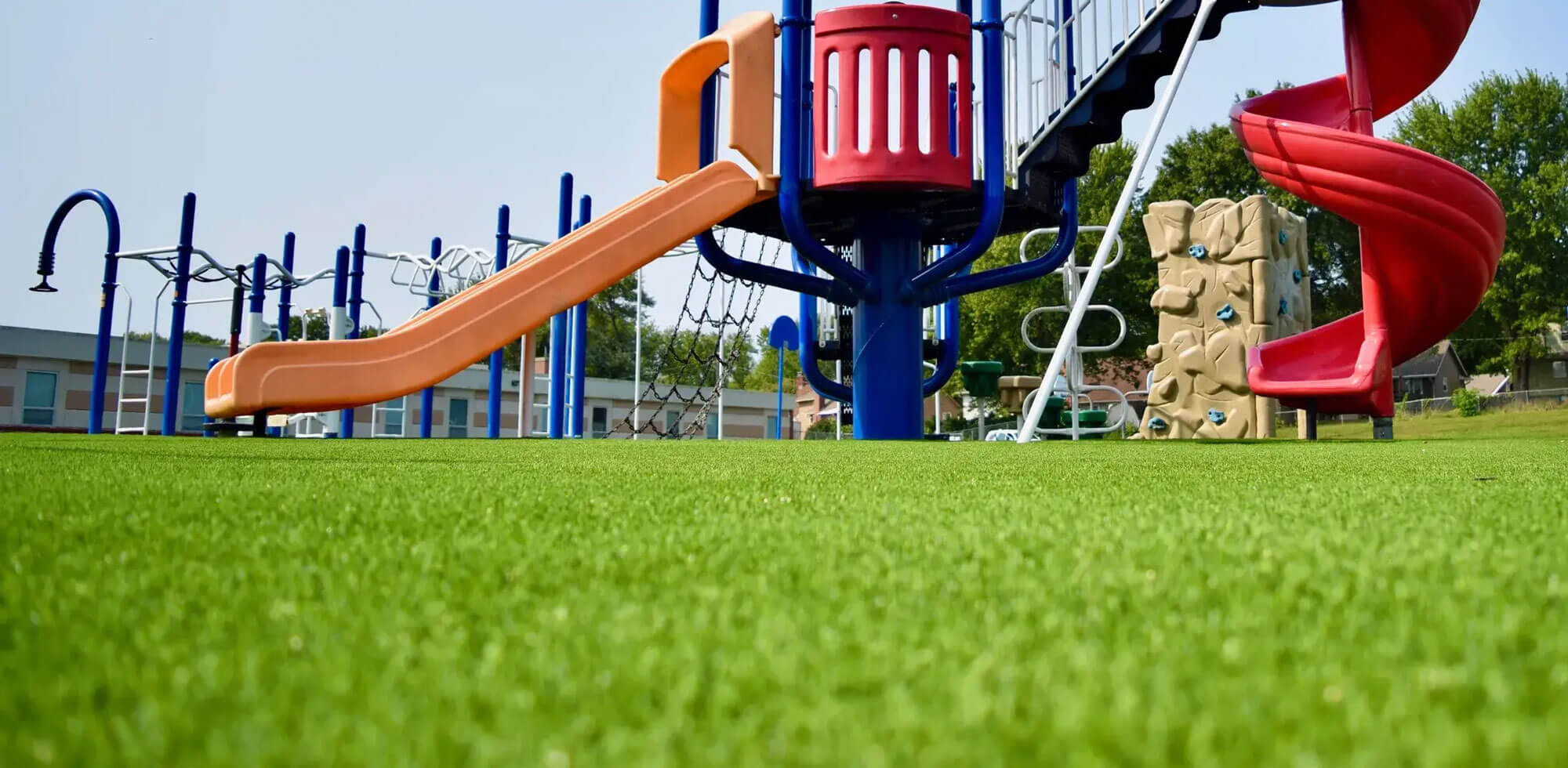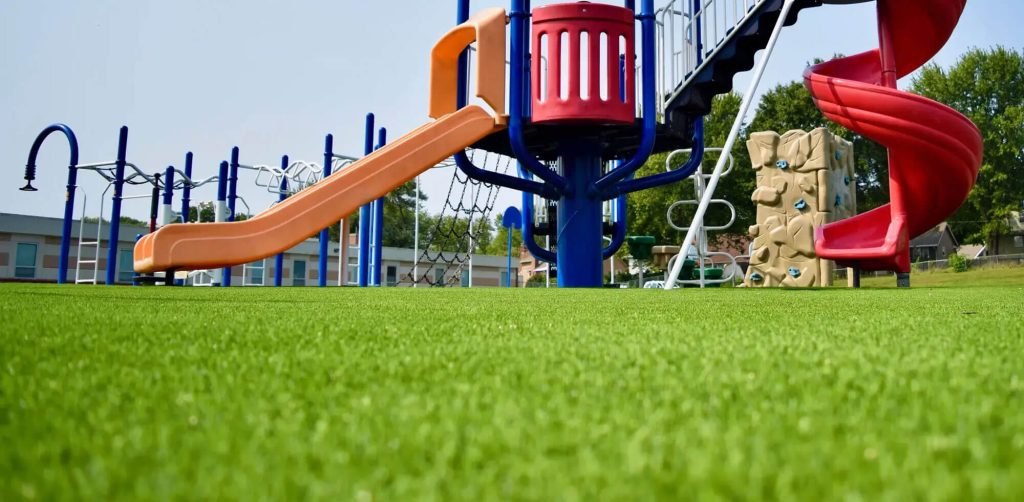 Playgrounds & The Need for Quality Surfaces
Playgrounds and play areas across North Texas need quality surfaces. Without them, children can be at a higher risk for injuries, and properties may be forced to continually invest in replacing their surfaces. Owning a high-quality surface for play – like our artificial playground – can help address these concerns and provide properties with several other advantages. They can also be a draw for potential customers to a commercial business or for families to enroll their children in a school.
Benefits of Our Synthetic Playground Grass
At Premier Greens, our synthetic playground turf provides homes, schools, parks, businesses, and more in Dallas and Fort Worth, TX with several benefits. Some of the many remarkable benefits include:
Cleaner Flooring
Playgrounds can be breeding grounds for dozens of types of microbes like bacteria. Fortunately, you can help keep play areas cleaner by utilizing our synthetic playground turf. Unlike other commonly used playground floorings, our artificial playground grass is quick draining, which makes cleaning simple! All you need to do is spray the surface with a hose and some nonabrasive soap.
Fewer Allergens
Sadly, children with allergies can often feel left out during playtime, especially if they are allergic to traditional grass. But, with artificial grass for playgrounds, this is a problem of the past! At Premier Greens, our playground grass is synthetic, so it does not produce grass allergens. As such, it is a healthier and safer surface for children with allergies to enjoy.


Safer Surfaces
Unfortunately, children are often reckless during playtime. For better or worse, it is usually a space for them to utilize pent-up energy and test their limits. While this is typically beneficial for them in the long run, it can lead to some unintended consequences.
Thankfully, at Premier Greens, our artificial playground grass can help prevent potential injuries during playtime. This is because our playground turf is equipped with extra padding that helps provide shock absorption. As a result, impacts with the surface are cushioned, which helps keep them from getting hurt, so they can keep playing.
More Consistent
Children can cause significant amounts of wear and tear to playground surfaces while playing. Sadly, many of the typical playground surfacing materials, such as traditional grass, sand, and wood chips, are not up to the task. These materials are usually only visually appealing on the day they are equipped to a playground. Shortly after, conventional grass falls apart while sand and wood chips bunch up, leaving other areas bare.
Thankfully, with our synthetic playground grass, this is not a concern. Our playground turf is highly durable, which allows it to withstand wear and tear. Ultimately, this helps our playground grass maintain a beautiful appearance throughout its long life.
Applications for Playground Turf in Dallas & Fort Worth, TX
Artificial playground turf from Premier Greens is ideal for several properties and spaces in Dallas, Fort Worth, and other North Texas areas. Some of the many potential applications for it include:
Residential front and backyards
Commercial playgrounds and play spaces
Parks
Schools
Daycares
Apartment complexes
Shopping malls
Churches and other religious properties
If your property has a space for children, our synthetic playground turf is more than likely perfect for it!
Contact Us for More Information
At Premier Greens, we supply, design, and install artificial grass, including artificial playground grass, for homes, businesses, schools, parks, and more in Dallas and Fort Worth, Texas. Our high-quality synthetic playground turf is made in the United States, and it offers property owners and children at play numerous benefits. Contact us today to learn more or get a playground turf quote!