At Premier Greens, we provide and professionally install artificial grass putting greens in Dallas, TX as well as other North Texas communities. Whether you are in the market for a personal backyard putting green or a public putting green for a commercial business, Premier Greens offers high-quality artificial golf greens with expert installation services. Best of all, our artificial putting green installation service is available at a highly competitive rate!
Schedule a free installation consultation to learn more!
Benefits of Artificial Putting Greens
Artificial grass is an incredibly versatile option for golf, especially for putting greens. This is primarily because artificial golf greens can be installed and easily maintained indoors or outdoors. However, this is not the only advantage artificial putting greens from Premier Greens have to offer, especially in comparison to natural golf grass.
The benefits of our artificial grass putting greens include:
Attractive and Realistic-Looking Greens.
Artificial grass is an attractive option for any putting green! At Premier Greens, our artificial golf grass is realistic in look and feel, making it nearly indistinguishable from natural grass.
So whether it's for a private Dallas residence or a commercial practice space, our artificial putting greens blend seamlessly with the rest of the landscaping – especially when surrounded by slightly different-looking artificial grass for fringe to help simulate the look of a professional fairway.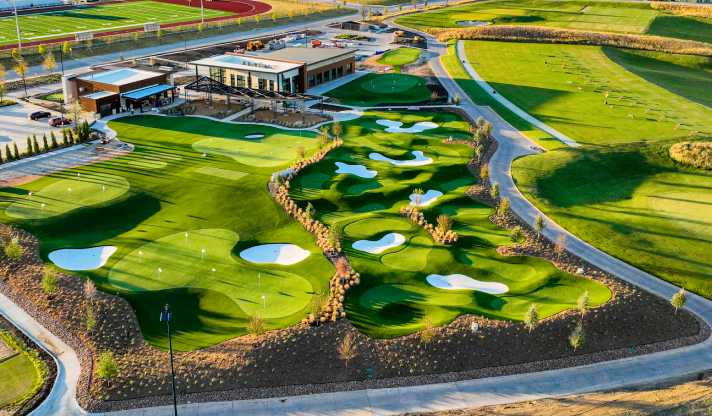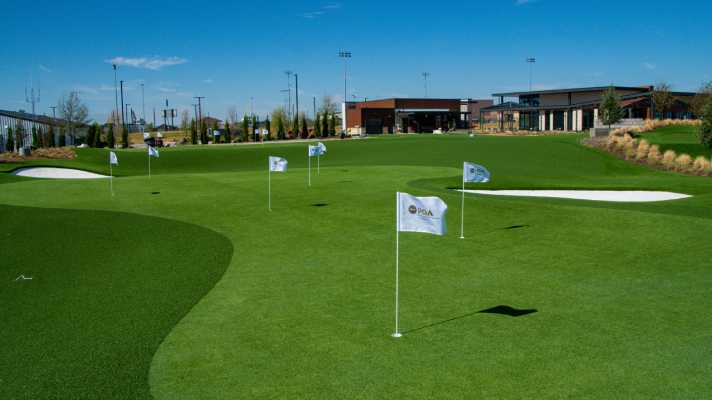 Easy Upkeep.
One of the most significant advantages artificial grass has over ordinary grass is easy upkeep. Unlike natural grass, our artificial grass and artificial grass putting greens do not require home or business owners to commit to the maintenance commonly required with natural grass.
So instead of spending hours ensuring your golf grass is properly watered, trimmed, and more, you can spend more time practicing your short game!
Durability.
Whether in a backyard or club course, golf greens often experience an abundance of wear and tear as well as foot traffic. Typically, natural grass succumbs to these elements fairly easily, leaving behind divots and other blemishes.
These irregularities can take considerable amounts of time to repair. Fortunately, at Premier Greens, our artificial grass putting greens are highly durable! As a result, they will not only last longer than natural grass but will resist developing divots and other irregularities.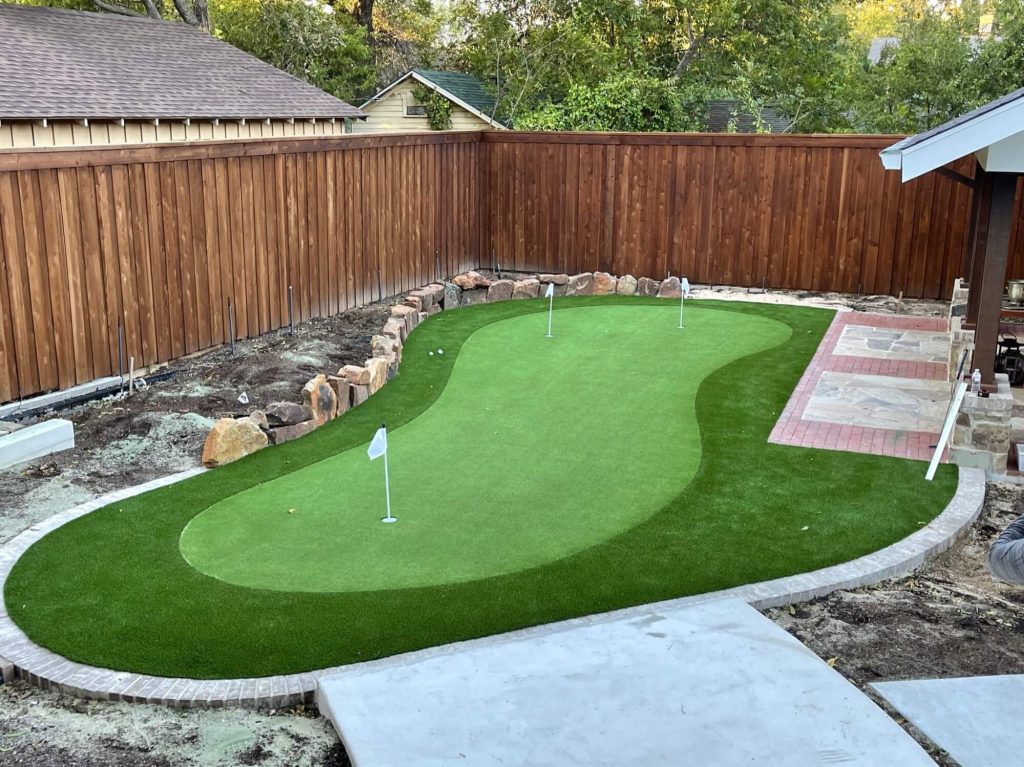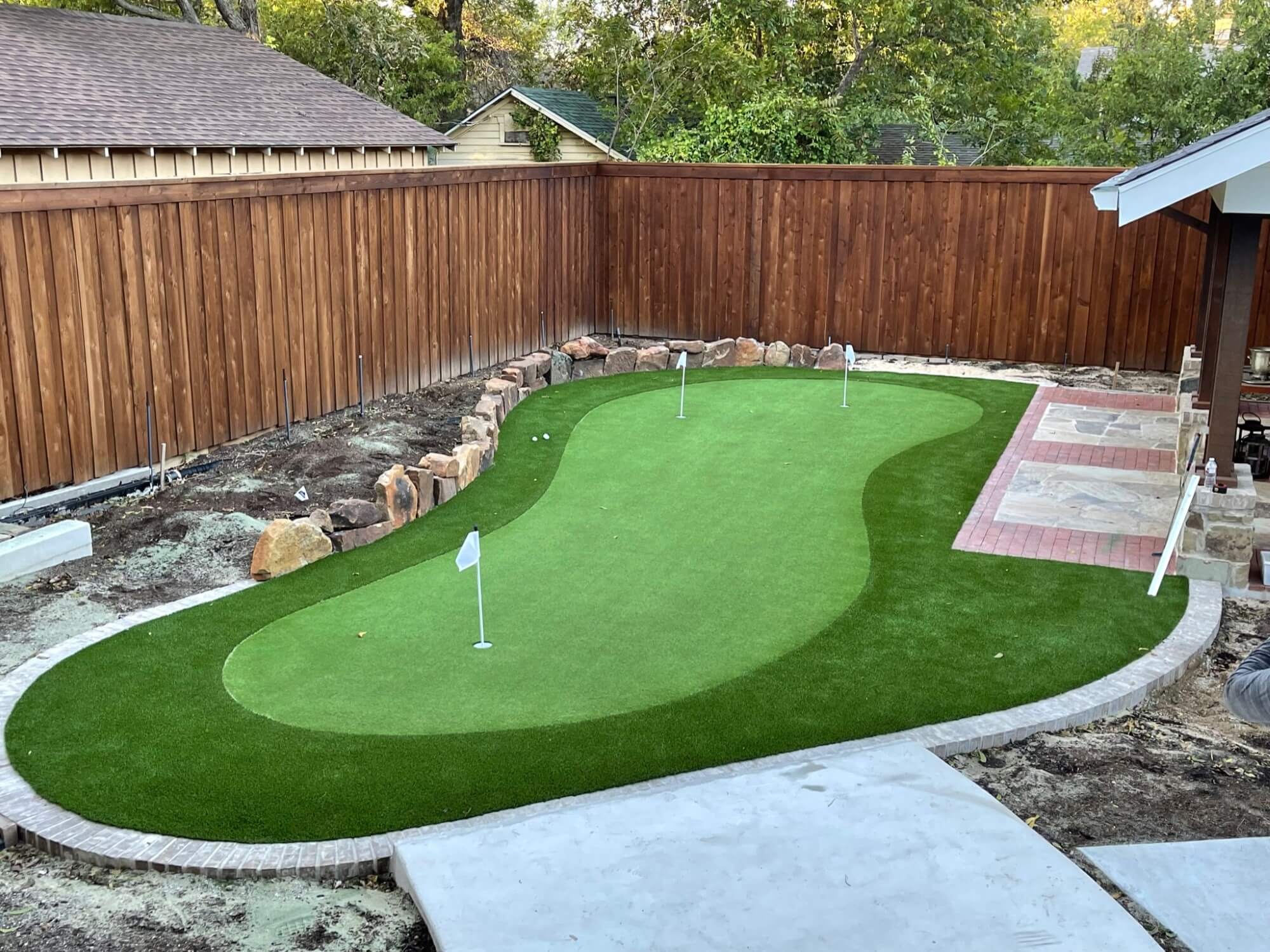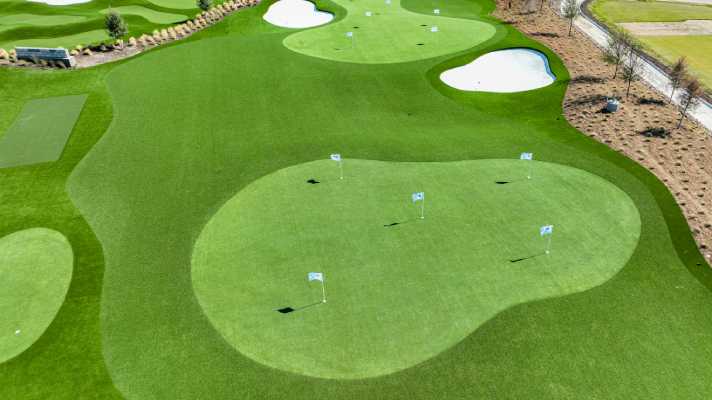 Eco-Friendly.
Usually, people associate greenery like natural grass with environmentalism. Sadly, this is not always the case. Natural golf greens require substantial upkeep not only to look great but remain playable. Unfortunately, upkeep, such as watering, trimming, and chemically treating natural golf grass, can have a negative impact on the environment. But, thankfully, it does not have to be this way! Artificial golf greens from Premier Greens provide golfers with a specialized playing surface that requires far less upkeep, allowing home and business owners to waste less water, stop mowing, and reduce the amount of chemicals they introduce to the ground. Ultimately, this makes our artificial putting greens much more eco-friendly!
Where to Install Artificial Grass Putting Greens
Since it is ideal for both indoor and outdoor use, artificial putting greens from Premier Greens are ideal for numerous locations in Dallas-Fort Worth, Texas, including:
Residential Greens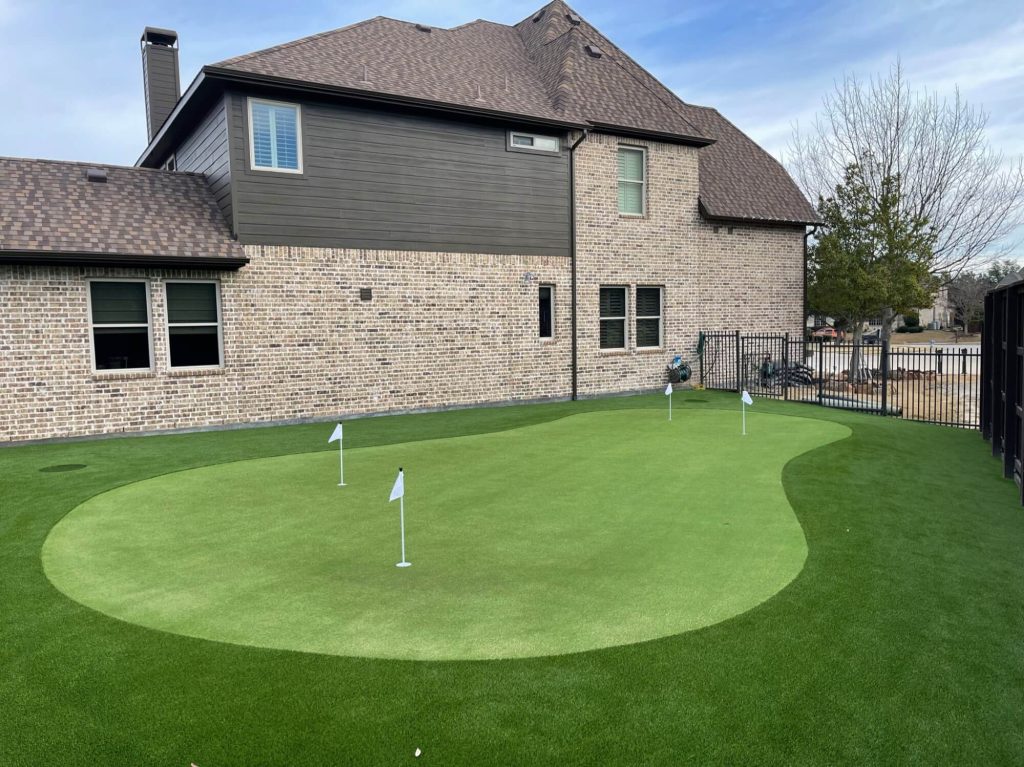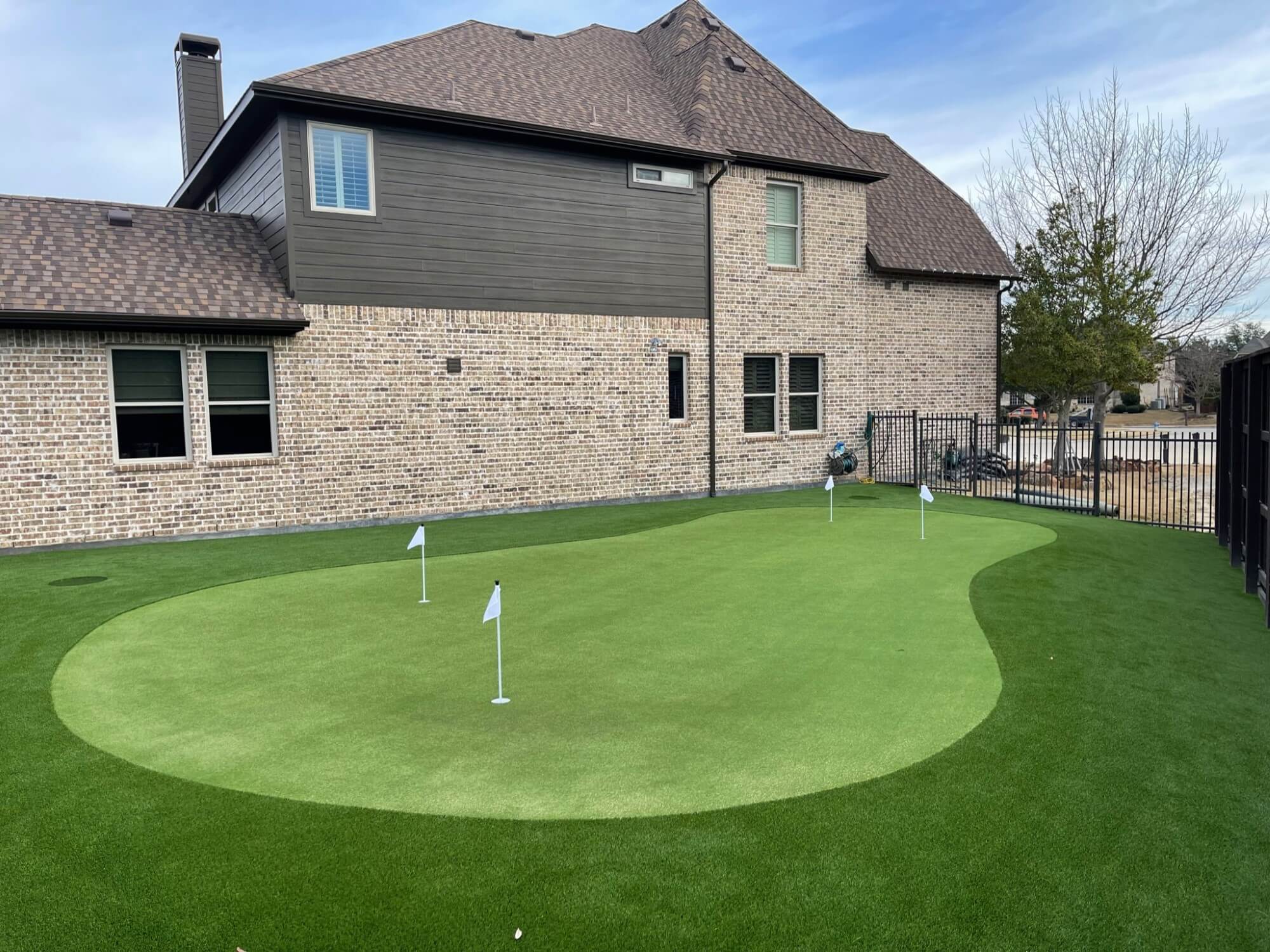 Golf enthusiasts hoping to put in some practice can benefit from installing an artificial putting green in their backyard. It can serve as an attractive yet functional feature that's extremely easy to maintain and enjoy!
Community Sites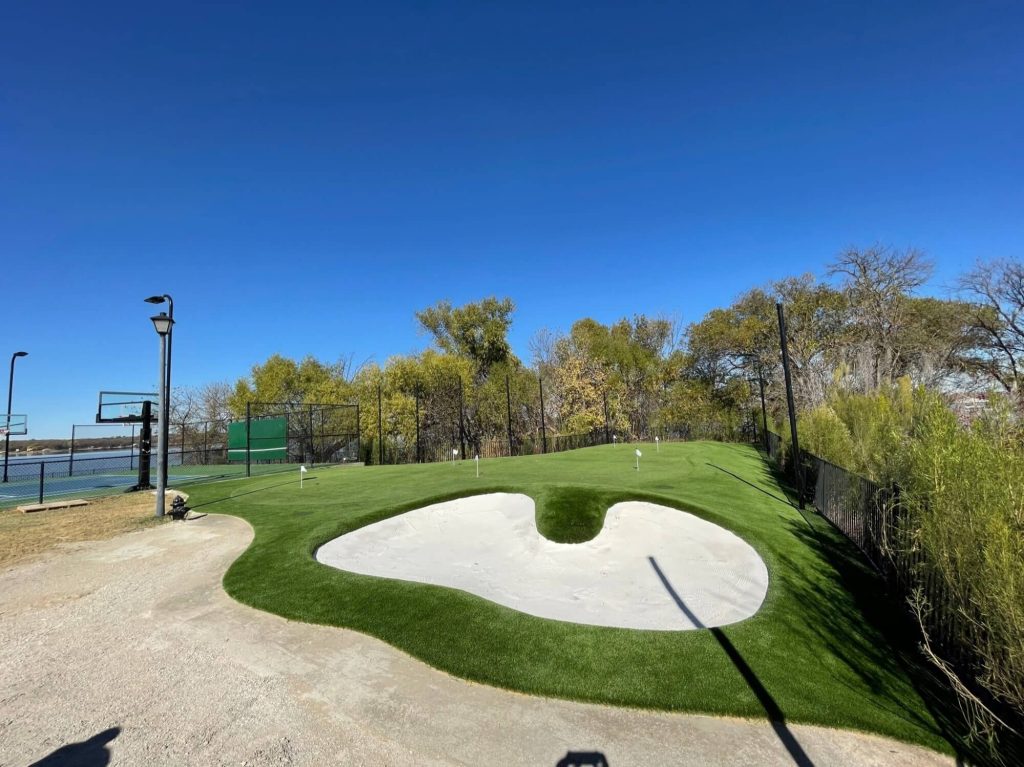 More and more community sites feature spaces for putting golf greens and frisbee golf. Both of these sports benefit from a durable, easy-to-maintain surface. By adding them to community spaces, it makes them a great place for many golfers and enthusiasts to practice their short game and even teach young golfers about the finer points of putting from different angles.
Commercial Facilities
Artificial grass putting greens are versatile for indoor and outdoor commercial sites, including miniature golf sites and extensive practice facilities. Our synthetic golf grass holds up to heavy use and looks attractive day in and out. This makes it a remarkable and dependable material for commercial facilities of nearly any kind but especially golf facilities like driving ranges and clubs.
Choose Artificial Grass for Your Putting Green!
Artificial grass putting greens from Premier Greens provide golfers in Dallas, TX with an exceptional surface to practice or play their favorite game. Our artificial golf grass is attractive, durable, eco-friendly, and easy to maintain. This makes it ideal for residential, commercial, and community installations. Contact us today to learn more or schedule a free installation consultation!